The information was released at a press conference held virtually in Hanoi on November 28.
Under the motto "Home of Consumer Goods", the fair will offer the world's most innovative and comprehensive range of consumer goods from 2023 onwards, interior and exterior furniture, decoration products, textiles for home use, household appliances of all kinds, gifts, watches of all kinds, jewelry, handicrafts.
The new products that have never been showcased at the previous fairs will be stationery office furniture.
The event is expected to attract about 4,200 exhibitors in Germany and around the world, including 55 from Vietnam. In addition to Vietnamese firms, the fair will feature the participation of Hanoi municipal People's Committee and
A new feature of the next year Ambiente Frankfurt Fair is to be held at the same time with two others including Christmasworld and Creativeworld on the same exhibition area of 331 square metres.
The redesigned offering will provide a unique, comprehensive portfolio of products and solutions and actively leverage synergy effects for exhibitors, visitors and the media.
Notably, the Global Sourcing section of the three leading trade fairs will be merged into a joint offering and marketed internationally.
In addition to the direct fair, an online platform will be organised to offer chances for visitors around the world to enjoy the exhibits and conduct contracts.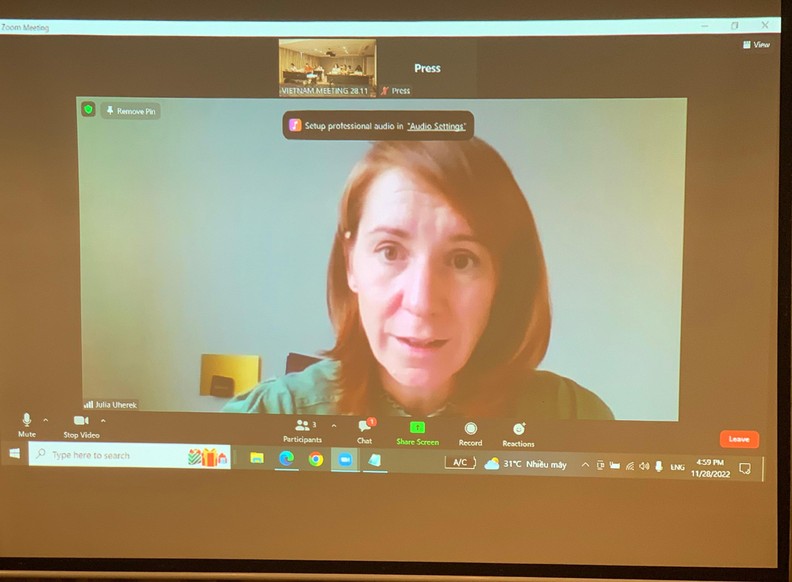 Vice President of Messe Frankfurt Group Julia Uherek speaks at the virtual press conference on November 28. (Photo: KIM LINH)
Speaking at the press conference, Julia Uherek, Vice President of Messe Frankfurt Group, noted that Europe is facing a high inflation, so whether buyers decide to buy products at the fair or not will depend on their quality and prices, requiring firms to promote innovations.
Vietnamese handicrafts that were exported to Europe, especially Germany, have great potentials thanks to trade agreements, including EU - Vietnam Free Trade Agreement. Therefore, Ambiente Frankfurt Fair will have the chance for Vietnamese products to access foreign markets, she added.
A wide variety of presentations of new consumer trends around the world will also be held on the sideline of the fair.