The treasures feature the Baekje gilt-bronze incense burner, the Sarira urn, and King Muryeong's gold crown ornaments.
Works on display at the exhibition also include photos and clips on other notable heritage sites of the RoK, such as the archaeological sites in Gwanbuk-ri and Wangburi, Jeongnim and Mireuk pagodas, the Tomb of King Muryeong, and Jeju's volcanic island.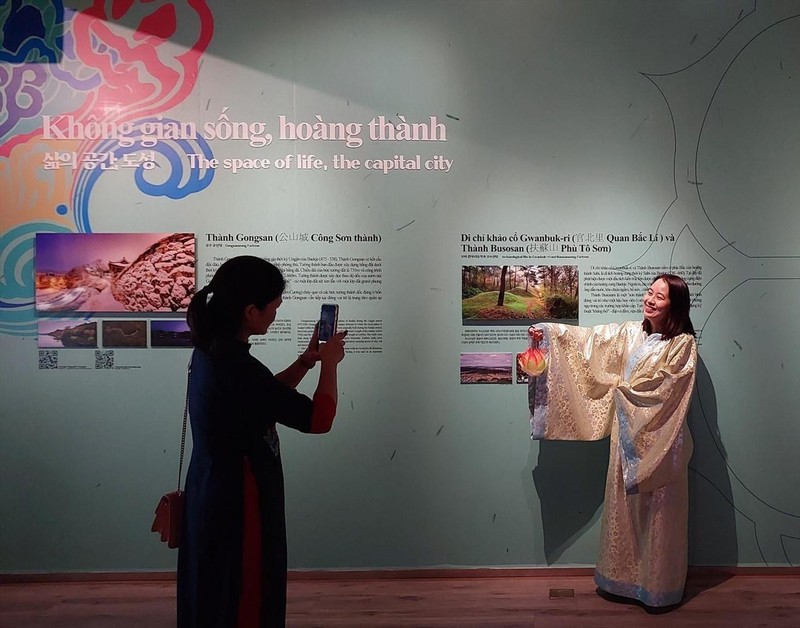 A visitor try on Hanbok at the exhibition (Photo: VNA)
Visitors to the event also have a chance to enjoy screenings of cartoons, try their hand at making Korean lanterns, and try on Hanbok (traditional Korean attire).
The month-long exhibition is jointly held by the Vietnam National Museum of History, the Baekje World Heritage Centre, the Korean Cultural Centre and Jeju province, as part of activities marking the 30th anniversary of the establishment of diplomatic relations between Vietnam and the RoK (1992 - 2022).
It aims to strengthen cultural exchanges and friendship between the people of the two countries.