The support plan is expected to be submitted to the Government and National Assembly's Standing Committee for consideration soon.
At the session, Phoc also said that his ministry will work with the Ministry of Labour, Invalids and Social Affairs to propose amendments to the Law on Social Insurance, one of which is to allow business household owners to participate in compulsory social insurance.
The minister said that in 2003, Vietnam had a policy to expand social insurance coverage. The Vietnam Social Security issued guidelines for provinces and cities on the issue of paying social insurance premiums.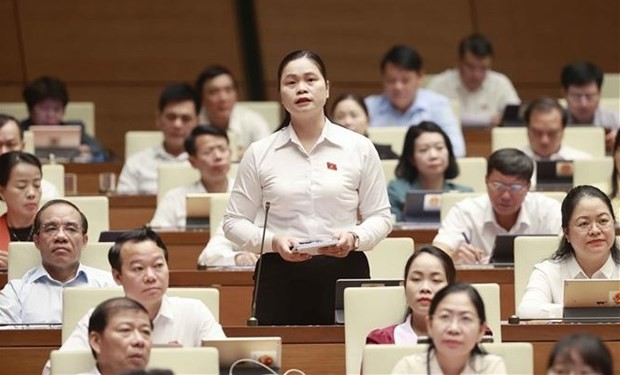 An NA deputy raises questions at Q&A session on June 6. (Photo: VNA)
He said the law on social insurance requires labour contract for social insurance participation. However, business owners do not have such contracts, they only have those with their employees. Therefore, the employees are eligible for compulsory social insurance, but the employers are not.
"The business household owners are self-employees, they have income. Their social insurance participation can be acceptable, but the law does not regulate it," Phoc said, adding that amendments to the law are needed.
Joining the Q&A session, Minister of Agriculture and Rural Development Le Minh Hoan said that implementing the National Target Programme on developing new-style rural areas, his ministry has designed the development of rural economic areas in association with improving knowledge and skills for agricultural and non-agricultural workers.
The minister affirmed that rural vocational training is not limited to agricultural jobs.
The ministry has developed five raw material areas and offered training to promote human resources to serve the raw material areas.