At the conference, Director of the Hanoi Department of Agriculture and Rural Development, Chu Phu My suggested that members of the city OCOP Council and related agencies, carefully study the dossiers and criteria related to OCOP products to classify products and bring benefits for participants of the OCOP programme.
Hoan Kiem district has pioneered participating in the evaluation and classification of OCOP products. The district had eight OCOP products ranked four stars in 2021 and this year, the district has three OCOP products rated three stars and three OCOP products rated four stars. These OCOP products are all traditional products such as biscuits, sampa cakes, braised fish, coconut braised meat, and others.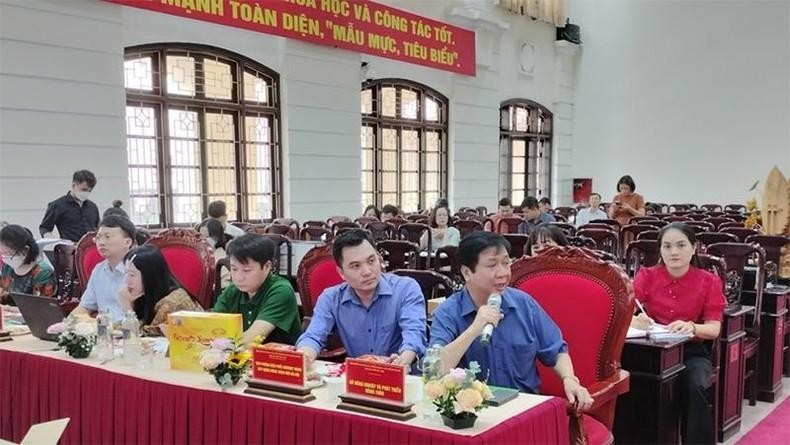 The jury comment on OCOP products.
Pham Thi Huyen from Hoan Kiem district said, that she brought traditional braised fish to the OCOP ranking programme this year, which is an opportunity for her to promote the transparent origin of her products as well as boost the brand of her products. Her products are all rated three stars in the OCOP classification programme.
According to the Hanoi Coordination Office for New Rural Development Programmes, Hanoi aims to have more than 400 OCOP products participating in the OCOP classification programme in 2022.
As many as 488 products of 26 out of 30 districts in Hanoi registered to participate in the OCOP classification programme this year.
Hanoi Promotion Agency (HPA) is assigned by Hanoi municipal People's Committee, to implement cooperation programmes with the Japanese AEON Group. Since 2016, HPA has actively coordinated with AEON Group to carry out many agricultural trade promotion activities with Vietnamese enterprises. Under the cooperation, the two sides have supported Vietnamese enterprises, to export Vietnamese agricultural products and food to the Japanese market through AEON's retail systems. HPA is a bridge to support and connect suppliers with the network of AEON Group, helping to provide technical training, raise awareness and competitiveness for businesses and improve their product quality.
The Hanoi trade fair, displaying agricultural products and goods under the 'One Commune, One Product' (OCOP) programme, is among the highlight events held annually at AEON Mall Long Bien and AEON Mall Ha Dong. The fair has received the enthusiastic participation of the business community and over 40 provinces and cities, with thousands of high-quality agricultural products and regional specialities, high-tech products and OCOP products, having been introduced to Hanoi's consumers. By participating in the fair, many businesses have gotten access to and received high appreciation from AEON Group's purchasing units, becoming suppliers of OCOP products and products to the Group, while gaining positive feedback from Hanoi's consumers.
One Commune One Product (OCOP) is the first rural economic development programme based on internal strengths to enhance value, implemented in Vietnam since 2018 under Government Decision 490/QĐ-TTg, issued on May 7, 2018.
The programme is intended to carry out the national target programme to build new rural areas and is designed to sustainably implement criteria on production and income improvement for the people, especially in rural areas. The focus of the programme is developing agricultural, non-agricultural and service products with advantages in each locality in accordance with value chains implemented by private enterprises and cooperatives.
During the three years from 2018 to 2020, Vietnam saw 2,400 OCOP products with 100% of stakeholders undergoing training to enhance their capacity to implement the programme. As of the end of 2020, all 63 provinces and cities have formulated and approved OCOP projects. After that, localities also helped the stakeholders to formulate production plans and assess their products in a six-step process. The Ministry of Agriculture and Rural Development also introduced a handbook and a set of criteria to assess OCOP products, organised training courses, and supported the building of a consultative network in 63 provinces and cities.
As of July 2022, there were 8,340 OCOP products which having been given three-star ratings or higher nationwide, with 4,274 stakeholders. Among these products, 20 are rated five stars and were selected by the Ministry of Agriculture and Rural Development to propose to the Prime Minister for approval as national gifts.