The Deputy PM made the assertion while giving further explanation about some issues related to human resources amid the Fourth Industrial Revolution on June 6 afternoon, part of the question-and-answer session on labour, invalids, and social affairs at the ongoing fifth session of the 15th National Assembly.
Ha held that it is necessary to review viewpoints and policies relevant to green growth and developing human resources for such sectors as education - training and science - technology. Those issues are closely linked with the development of human resources, one of the three targeted strategic breakthroughs stated in the 13th National Party Congress's resolution.
The Deputy PM also stressed the importance of enterprises' research and development (R&D) activities to the economy, noting that the Party and State have paid great attention to this as seen in the establishment of science and technology development funds. However, Vietnam has yet to record substantial improvement in labour productivity.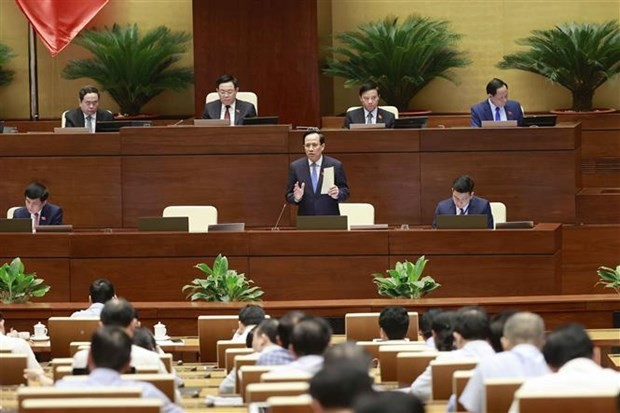 Minister of Labour, Invalids and Social Affairs Dao Ngoc Dung fields legislators' questions about issues within his remit on June 6. (Photo: VNA)
R&D is critical to the competitiveness of enterprises in the era of digital transformation, with a focus on such fields as artificial intelligence, blockchain technology, biopharmaceutical technology, Internet of Things, and technology related to renewable energy.
It holds potential for creating new jobs and new sectors, but all must start from human resources, he added.
The official said the targeted breakthrough of developing human resources should be made by implementing the Party and State's policies, issuing strategies, and handling legal affairs so as to create a new driving force for the country to align its development with the global trend.
Vietnam may start late but it can take shortcut to catch up with the trend of digital transformation, green transition, and energy transition, Ha remarked.