The event was attended by Secretary of the Party Central Committee and head of the Party Central Committee's Commission for Information and Education Nguyen Trong Nghia; Vice President Vo Thi Anh Xuan; National Assembly Vice Chairman Nguyen Quang Phuong, and leaders from ministries and central agencies.
The Paris Peace Accords was inked on January 27, 1973 after negotiations which spanned four years, eight months and 16 days. It was the fruit of an enduring struggle and toughest wit fight of the 20th century.
The success of the biggest peace negotiation of the 20th century came from the harmonious coordination among three fronts of politics, military and diplomacy as well as large-scale military campaigns such as Mau Than (1986), Quang Tri (1972) and Hanoi –Dien Bien Phu in the Air (1972).
The Paris Conference offered a lesson on the combination of national strength and the strength of the era, with the support of the international community.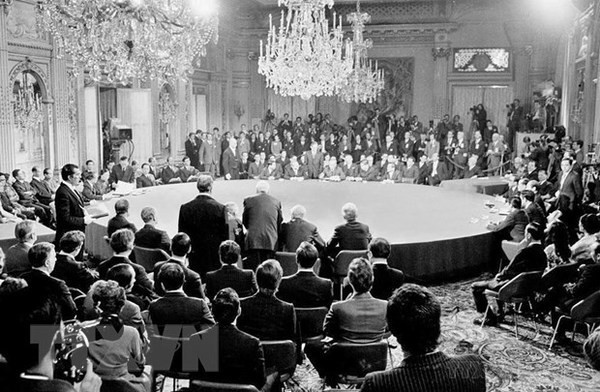 An overview of the signing ceremony of the Paris Peace Accords in Paris on January 27, 1973. (Photo: VNA)
The Paris Peace Accords forced the US to make commitments to respecting the independence, sovereignty and unity of the Vietnamese nation.
At the programme, Tu Nguyet, a revolutionary who gave birth to a son in prison and was released after the Paris agreement was signed, reunited with her cell mate who helped Nguyet take care of her son.
Ton Nu Thi Ninh, former Vietnamese Ambassador to the European Union and Belgium, former Chairwoman of the National Assembly's Committee for External Affairs, and the translator for then Minister Nguyen Thi Binh in some informal meetings during the Paris Conference, highlighted lessons as well as the meaning of the Paris Agreement to the Spring 1975 victory as well as the stature of the Vietnamese diplomacy.
The programme also spotlighted major achievements of Vietnam after the Paris Agreement was signed and peace was resumed in the north.
The programme gave a chance to look back on glorious days when the nation united with a common aspiration for national territorial integrity, and contributed to the common struggle for peace, national independence, democracy and social progress in the world.