During a reception in Hanoi on February 15 for US Trade Representative Katherine Tai in Hanoi on February 15, Hai hailed the US's support for a strong, independent and prosperous Vietnam.
Vietnam wishes to promote its comprehensive partnership with the US in a more practical and stable manner on the basis of respecting independence, sovereignty, territorial integrity and political regimes of each other, toward lifting bilateral relationship to a greater height, he said.
He added that Vietnam also welcomes the US's strengthening of comprehensive and responsible cooperation with the Asia-Pacific and Indian Ocean. Vietnam stays ready to partner with the US in regional and global issues of shared concern, making contributions to peace, stability, cooperation and an order based on international law in the region, including maintaining freedom, safety, and security of navigation and overflight in the East Sea/South China Sea in accordance with the 1982 UN Convention on the Law of the Sea (UNCLOS).
Hai stressed that Vietnam always values comprehensive partnership with the US, with economic-trade-investment-financial cooperation as a focus and important driving force.
Two-way trade between Vietnam and the US rose by 11% annually last year to over 123 billion USD. The US remains Vietnam's biggest importer while Vietnam is the US's ninth largest trade partner globally and biggest partner in ASEAN.
Vietnam will continue to maintain macroeconomic stability, ensure major balances of the economy, make comprehensive and synchronous economic reforms, improve the business environment to facilitate the expansion of foreign enterprises. Vietnam considers the area with foreign investment as an important component of the economy and encourages foreign firms to invest more in Vietnam, especially in fields where Vietnam has demand and businesses have strengths, he said.
He proposed the US continues holding dialogues with Vietnam on market economy issues (MES), while considering the application of market economy principles on a sectoral basis, and organising the next dialogue on this issue in the near future.
The host said Vietnam values the Indo - Pacific Economic Framework for Prosperity (IPEF), stays ready to discuss with the US and other relevant countries towards building an open, comprehensive, balanced, flexible, and rules-based economic cooperation framework that meets legitimate and rightful interests of all parties concerned.
Congratulating the US's hosting of APEC 2023, Hai said Vietnam supports the theme and priorities of APEC Year 2023 and agrees to enhance cooperation to accelerate economic recovery, comprehensive linkage and connectivity and sustainable growth, and maintain the role of APEC as the leading forum in the region for economic cooperation and connectivity. Vietnam also commits to close collaboration toward the success of APEC Year 2023.
He wished both sides would continue sharing opinions on issues of shared concern such as promoting a free, open and transparent trade environment, enhancing the empowerment of women; coping with climate change, developing the digital economy and training human resources.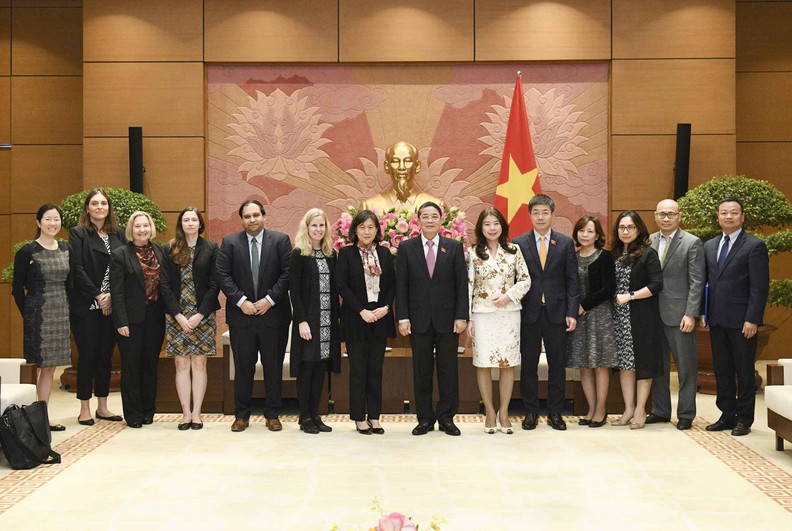 The delegates at the reception (Photo: quochoi.vn)
Tai, for her part, affirmed that the US always considers Vietnam an important partner in the region.
She informed the host about priorities and plans for APEC Year 2023, the potential and prospects of IPEF for promoting high-quality investment, building resilient regional supply chains, inclusive and sustainable economic growth, addressing common regional challenges and seizing new development opportunities.
The guest stressed that Vietnam's participation in the IPEF plays an important role in its success.
She also wished that both sides would continue stepping up bilateral economic and trade ties, and enhancing discussions on labour, environment, digital trade, agriculture and intellectual property.