The conference was chaired by Deputy Secretary of the Central Military Commission and Minister of Defense General Phan Van Giang.
The Party chief congratulated and applauded the Central Military Commission, the Defence Ministry and officers and soldiers of the whole army for achievements they made in 2022. He attributed the achievements to the leadership of the Party, the centralised and unified management of the State, and the close and effective coordination of ministries, sectors and localities.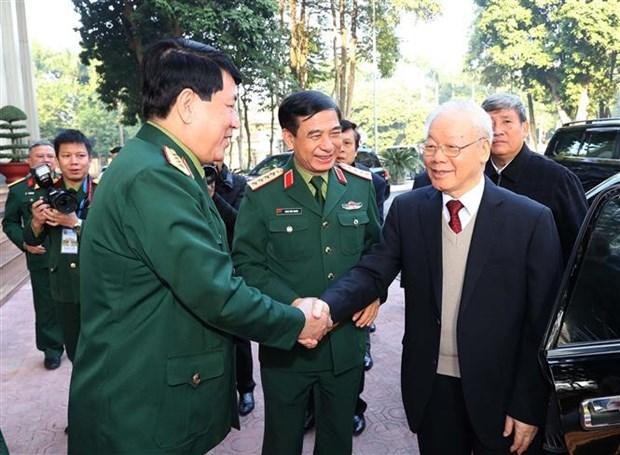 Party General Secretary Nguyen Phu Trong (R) shakes hands with officers from the Ministry of National Defence. (Photo: VNA)
He underlined the need to be proactive and sensitive, improve the research and forecast capacity, perform well the strategic consultation related to military and national defence, and take appropriate and effective measures to handle situations, especially those to early prevent risks of war and conflicts, and to address border and island issues.
The leader ordered the whole army to be aware of and strictly implement the policy on national defence, improve the effectiveness and efficiency of State management of national defence at all levels, and strengthen the whole-people defence.
He asked for closer coordination between the military and ministries, sectors and localities to effectively implement strategies, plans, military and defence legal systems; and uphold the core role of army corps and economic - defence corps in socio-economic development in strategic areas along the land border line, sea and island areas, thus contributing to building a strong national defence posture and firmly defending national sovereignty over territory, borders, sea and islands.
The army must strictly maintain combat readiness; firmly manage and protect the airspace, sea, border, inland, and cyberspace; effectively respond to non-traditional security challenges and high-tech war; and improve the quality of training, drills, and scientific research, he said.
Regarding the implementation of Resolution No. 05-NQ/TW of the Politburo on the organisation of the Vietnam People's Army in the 2021-2030 period, General Secretary Trong said the process must be tight, resolute, and persistent with an appropriate roadmap because this is an important issue related to the ideological and policy work.
He also underlined the necessity to promote the application of achievements of the 4th Industrial Revolution and develop a modern defence industry towards becoming a spearhead of the national industry.
The Party chief also requested greater attention to Party building in the military, strongly innovating the leadership method, strictly implementing the Party's principles on organisation and operation, and strengthening the Party's absolute and direct leadership in all aspects over the army.