Receiving Müller, Chinh, on his trip to attend the high-level week of the United Nations General Assembly's 78th session and bilateral activities in the US, appreciated efforts by the UNIDO and its Director General to support Vietnam in implementing three strategic breakthroughs in infrastructure, human resources and institutions, and building a socialist-oriented market economy.
Emphasising Vietnam's determination to build a strong industry, sustainable ecological agriculture, and concerted and effective service industries, he requested the UNIDO to support Vietnam in implementing its industrial development strategy to 2025, with a vision to 2035, with priority given to perfecting and implementing industrial policies, developing low-emission industries, and increasing the added value and competitiveness of Vietnam's industries to participate in global supply chains.
Müller said that Vietnam is the most successful model of development and an important partner of the UNIDO with many cooperation programmes, affirming his organisation will focus on supporting Vietnam in energy saving and decarbonisation of industries, and in developing food innovation systems and agricultural value chains, processing industries, and rural industry.
The UNIDO will coordinate closely with the Vietnamese side to soon approve the national cooperation programme for the 2023-2027 period as a basis for collaboration activities in the coming time, he stated, proposing the two sides consider the possibility of trilateral cooperation between Vietnam, the UNIDO, and a developing country.
Chinh took the occasion to invite the UNIDO leader to visit Vietnam to promote more opportunities for bilateral cooperation, thus contributing to supporting Vietnam in achieving its goal of becoming an upper middle-income country with a modern industry by 2030 and a high-income developed country by 2045.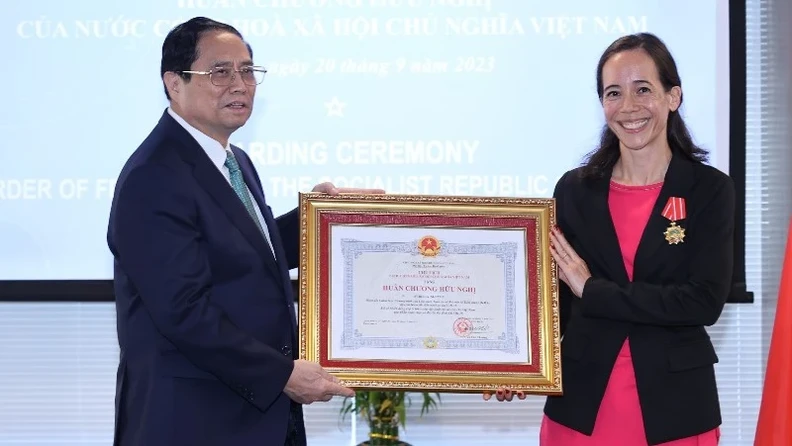 Prime Minster Pham Minh Chinh hands to GAVI Chief Programme Officer Aurélia Nguyen the Vietnamese State's Friendship Order in recognition of her important support for COVID-19 prevention. (Photo: Nhat Bac)
Receiving Aurélia Nguyen, PM Chinh thanked her for support to Vietnam during the most difficult times of the COVID-19 pandemic.
He suggested GAVI and Aurelia Nguyen personally increase support for Vietnam in accessing vaccines to prevent epidemics, building strategies and plans to improve expanded vaccination, and receiving the transfer of mRNA vaccine technology.
Aurélia Nguyen expressed her hope that the two sides will maintain cooperation in producing vaccines against diseases in the coming time, and affirmed that she will continue supporting the country in implementing vaccination programmes for common diseases.
On this occasion, PM Chinh handed to Aurélia Nguyen the Vietnamese State's Friendship Order in recognition of her important support for COVID-19 prevention.