Talking to the Vietnam News Agency, Khoa said the visit on February 10 - 11 holds great significance as it is the first trip to Brunei by a PM of Vietnam in nearly 16 years and takes place amid growing bilateral relations, following the 30th anniversary of diplomatic ties in 2022.
The visit is a move to implement Vietnam's foreign policy and shows the importance Vietnam attaches to the ties with Brunei as well as other ASEAN members.
During the trip, PM Chinh will have a meeting with Sultan Haji Hassanal Bolkiah to set up orientations for promoting bilateral cooperation in all aspects, thereby helping to effectively implement the comprehensive partnership, the ambassador noted.
For the last more than 30 years, Vietnam and Brunei have witnessed important strides in their relations in all fields, from politics, economy, and trade to culture and people-to-people exchange, Khoa noted.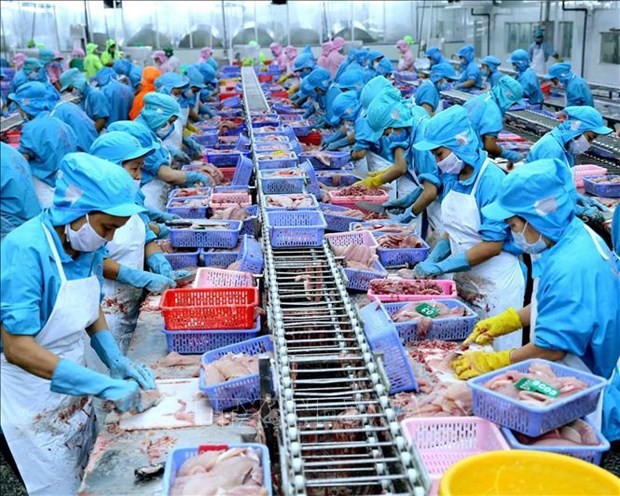 Trade between Vietnam and Brunei has surpassed the target of 500 million USD ahead of schedule for 2025. (Illustrative photo: VNA)
Since bilateral ties were officially established in 1992 and elevated to a comprehensive partnership in 2019, they have become increasingly close-knit, enhanced political trust and cooperation, and maintained mutual support at multilateral forums.
Bilateral trade has been on the rise after the COVID-19 pandemic, surpassing the target of 500 million USD ahead of schedule for 2025, he went on, adding that the countries launched the negotiations on agreements on security and anti-transnational crime cooperation in 2019.
The diplomat also highlighted collaboration in education, culture, and people-to-people exchange.
In the recent past, Vietnam - Brunei relations have been thriving in a substantive manner. They have continuously coordinated and supported each other at multilateral forums and international and regional organisations such as the ASEAN - EU cooperation framework, the Asia - Europe Meeting (ASEM), the Asia-Pacific Economic Cooperation (APEC), and the United Nations. They have also been working together to promote ASEAN's centrality.
In the coming time, he suggested, the two sides should carry out the outcomes to be obtained during the PM's coming visit; keep fostering the comprehensive partnership, especially tapping into every economic cooperation potential; and continue contributing to the solidarity of ASEAN for the sake of regional and global peace, stability, and development.