The "Run 4 Tigers" event is the 12th annual half-marathon race organised by the Red River Runners club in collaboration with Sporting Republic and the local NGO Education for Nature - Vietnam (ENV), aiming to raise funds for activities to protect the wildlife in Vietnam.
In addition to registration from individuals, there were groups coming from agencies, enterprises and diplomatic missions in Hanoi participating in this year's race, along with the joining from celebrities such as Miss Vietnam 1994 Nguyen Thu Thuy and MC Mai Trang from Vietnam Television.
Runners show their commitments to protect tigers.

Jody O'Dea, a representative from Red River Runners, expressed his delighted at the support of the runners to the event, saying that it shows public attention and desire to protect tigers from extinction risk.
The demand for tiger products has caused the wild tiger population in Vietnam and other countries in the region to decline sharply in recent decades. Scientists estimate that Vietnam currently has less than five tigers in the wild. The biggest threat to tigers in Vietnam is the illegal hunting and trading of tigers, as well as the loss of their habitat. Tigers are mainly traded for bone to make traditional medicines.
The race attracts a large participation from individuals and groups.

Nguyen Thi Phuong Dung, Deputy Director of ENV, said the extinction of the one-horned rhino in Vietnam in 2010 was a great loss, stressing the need to take actions to protect tigers before it is too late.
"The best way to protect tigers is to let them live in a natural environment. This is also the message that this year's run wants to convey to the community," Dung stressed. She also called for the community to join the efforts by not using any product from tigers and report violations to authorised agencies or the ENV free hot line for wildlife protection at 1800 1522.
Miss Vietnam 1994 Nguyen Thu Thuy (C) joins the race for the first time.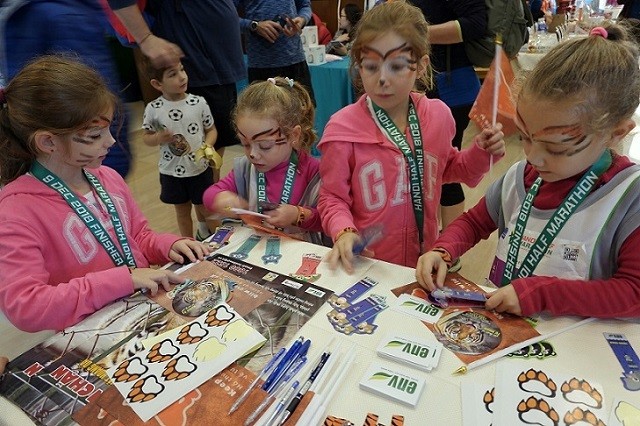 Interactive activities at the event attract multiple attendees.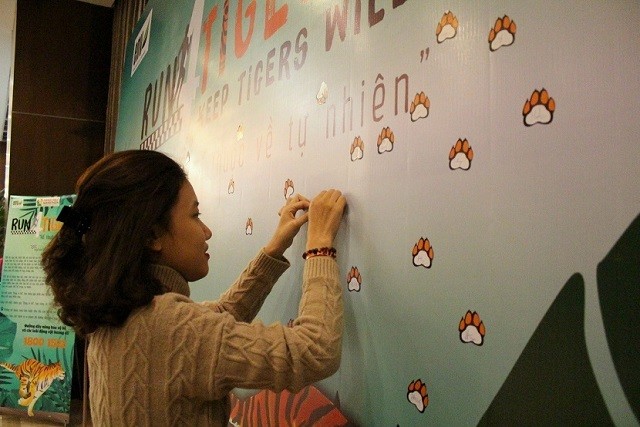 Signing to commit to tiger protection.