The leader was speaking at a meeting with outstanding volunteers and individuals on the occasion of the 30th anniversary of summer volunteer programmes and campaigns of young people in the city.
From the initial campaign named "Anh sang van hoa he" (Summer Anti-Illiteracy Campaign) launched in the city in 1994, volunteer activities have been rolled out across the southern metropolis under various campaigns, attracting the participation of 5 million youths.
Over the past three decades, the volunteers have built 31,000 facilities, built and upgraded 7,720 houses, 870 kilometres of roads and 500 rural bridges, planted 650,000 trees, provided free health checkups for 1.2 million people, donated 160,000 units of blood, and helped 2.7 million students in major exams.
Aware of their efficiency, the Ho Chi Minh Communist Youth Union Central Committee has launched similar programmes and campaigns nationwide, which have received warm response from young people.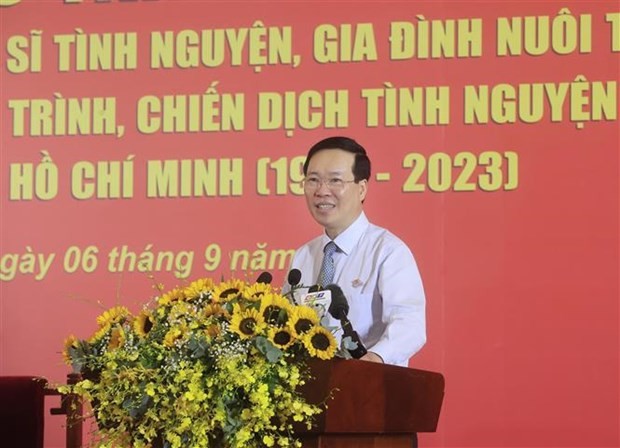 President Vo Van Thuong speaks at the meeting. (Photo: VNA)
Thuong stressed that through the practical activities, youths will learn more about the country and take righteous actions.
More importantly, they have become more matured in the way of thinking, gained an insight into the country's reform, and known how to support those in difficult circumstances, the leader continued.
He noted that Ho Chi Minh City's youths should be aware of their role in the cause of development as resolutions adopted by the Party and the National Assembly have set forth many new tasks for the city.