Vietnam qualify for Asian Cup quarterfinals after 12 years
Vietnam produced a fantastic journey in the 2019 Asian Cup, their opening international campaign of the year, as Park Hang-seo's side beat Jordan 4-2 in a penalty shootout to make it through to the quarterfinals.
This was the second time that Vietnam qualified for the last eight of Asia's largest football playground, following the first time in 2007.
In the quarterfinals, the Golden Dragons conceded a narrow 0-1 defeat against powerhouses Japan, who then finished as the overall runners-up.
Vietnamese players moving to play abroad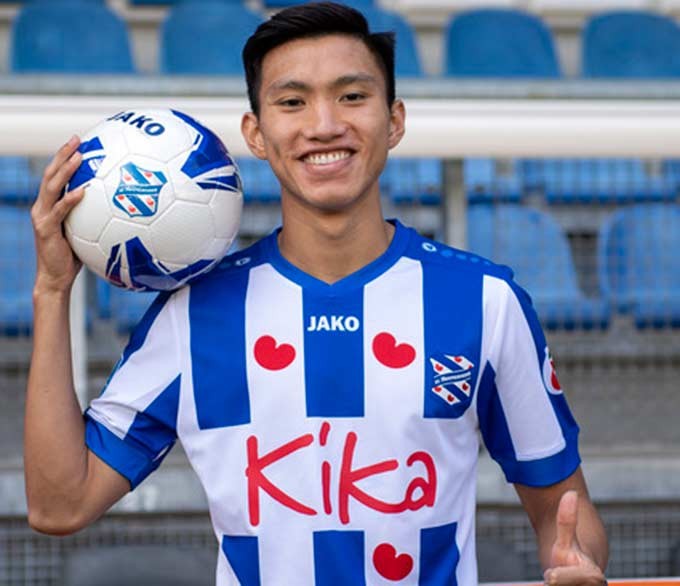 Vietnam defender Doan Van Hau is playing for Dutch team SC Heerenveen.

Shortly after the Asian Cup, two Vietnamese players were contacted by foreign clubs. Muangthong United, a rich Thai team, did not hesitate to spend US$500,000 to get the signature of Vietnam's top goalkeeper Dang Van Lam from V.League 1 team Hai Phong FC. Then, Hoang Anh Gia Lai's midfielder Luong Xuan Truong also moved to Thailand to play for Buriram United under a loan agreement.
More impressively, striker Nguyen Cong Phuong has become the first Vietnamese player, after the case of senior Le Cong Vinh, to move to play in Europe. Specifically, Phuong joined Belgian club Sint-Truidense under a one-year loan agreement from July 2019. Two months later, defender Doan Van Hau was also loaned to Dutch team SC Heerenveen for one season.
Up to present, Dang Van Lam has been the only player among the four aforementioned names to affirm himself while playing aboard; he is performing brilliantly in the Thai League under the jersey of Muangthong United.
Park Hang-seo's Vietnamese side overwhelm Thailand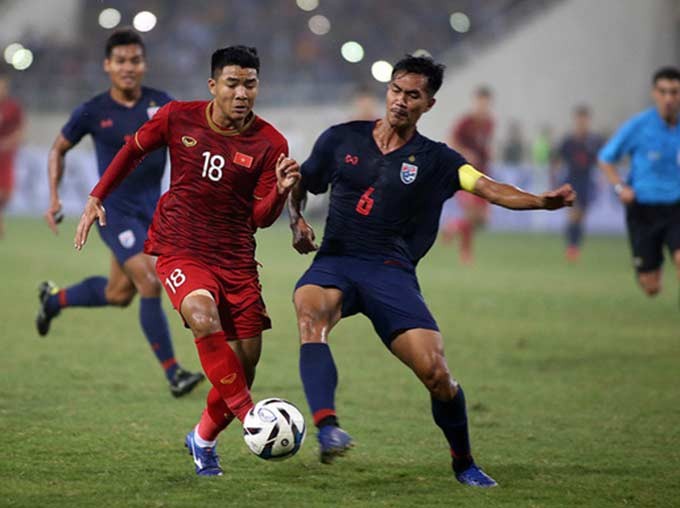 Vietnam forward Ha Duc Chinh (in red) in action with a Thai player during a clash between the two sides in 2019.

2019 witnessed a serious decline in Thailand's position on the Southeast Asian football map, especially during their direct encounters against Vietnam. At the 2020 AFC U23 Championship qualifiers, Park Hang-seo's Vietnamese side thrashed their Thai opponents 4-0, which was the largest-margin victory for a Vietnamese team against Thailand in history.
Three months later, Thailand succumbed to Vietnam on their home ground at the King's Cup tournament. It was also Thailand's first defeat against Vietnam at the national team level in 11 years, after their loss in Rajamangala in 2008. Given such slump, the Football Association of Thailand had to spend a large sum of money to invite Japanese coach Akira Nishino to lead their teams. However, in all three of their following encounters against Park's troops, Nishino could not help Thailand to earn a single win.
Park Hang-seo extends contract with VFF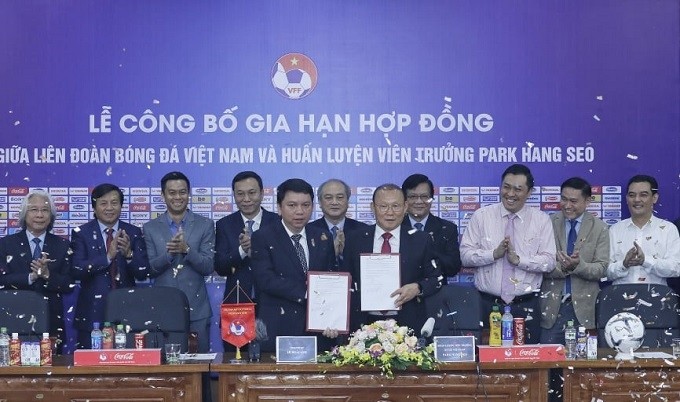 Park Hang-seo's new contract with the VFF will take effect from February 2020. (Photo: VFF)

Following a series of successes with Vietnam's national and U23 squads throughout the 2018-2019 period, coach Park Hang-seo was offered a proposal to extend his contract with the VFF. After negotiations concerning many various aspects, including salary, the long-term development vision and the goals for the next 2-3 years, Park decided to ink another three-year contract with Vietnamese football.
Despite being undisclosed, Park's salary is higher than in the previous contract and is commensurate with the efforts made by the Republic of Korea tactician. 60-year-old Park has also played a crucial role in designing a strategy to help to elevate Vietnamese football in the near future.
A record season for Hanoi FC
At the club level, Hanoi FC produced an unprecedented record for a Vietnamese club in a season. Specifically, Chu Dinh Nghiem's troops played a total of 47 matches in 2019, surpassing the previous record of 41 matches created by Becamex Binh Duong 10 years ago.
More impressively, Hanoi FC performed brilliantly on three fronts. They not only achieved a double of domestic titles, winning both the V.League and the National Cup, but also advanced to the AFC Cup inter-zone final, where they unexpectedly lost 2-2 on aggregate to 4.25 SC from the Democratic People's Republic of Korea.
Vietnam claims big wins at AFF Awards 2019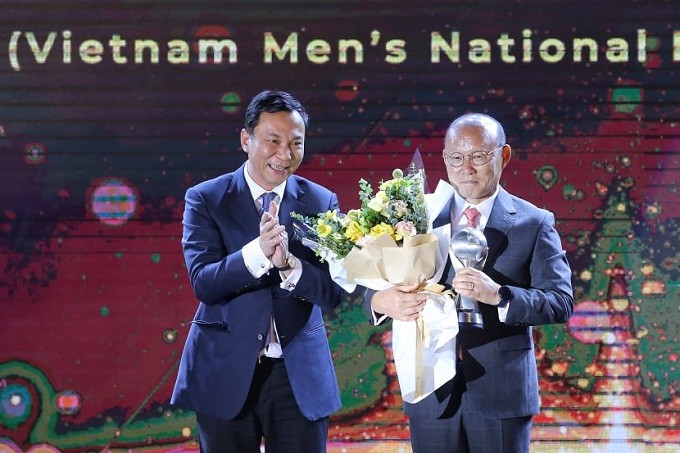 Tran Quoc Tuan, permanent vice president of the VFF and president of the AFC's competition committee, presents the AFF Coach of the Year award to Vietnam head coach Park Hang-seo.
Representatives of Vietnamese football were named as winners of important awards at the AFF Awards Night 2019 in Hanoi. Specifically, Vietnam coach Park Hang-seo beat Malaysia coach Tan Cheng Hoe to take the "AFF Coach of the Year (Men)" title, while midfielder Nguyen Quang Hai surpassed Thai star Chanathip Songkrasin to claim the "AFF Player of the Year (Men)" award for the first time.
Vietnam's joy was multiplied as the Golden Dragons were named the AFF National Team of the Year (Men) following their triumphant 2018 AFF Cup journey as well as their amazing 2019 Asian Cup run.
Vietnamese football dominates at SEA Games 2019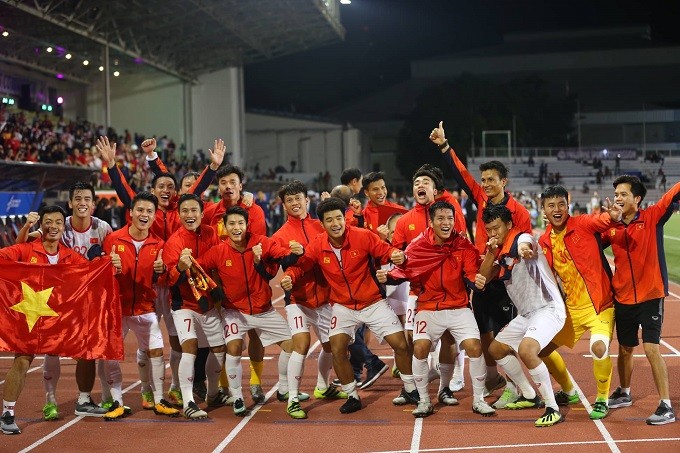 Vietnamese players celebrate winning their first-ever SEA Games gold medal in men's football.

The 2019 SEA Games ended as a big success for the Vietnam sports delegation as a whole and for Vietnamese football in particular. For the first time ever, Vietnam took the top honour in both the men's and women's football events at the same time.
Vietnam U22s quenched the country's 60-year thirst for a maiden SEA Games title, while the Vietnam women's team clinched their sixth gold medal at the region's largest sporting event, the most in the history of the SEA Games.
Vietnam top Group G in round two of 2022 World Cup Asian qualifiers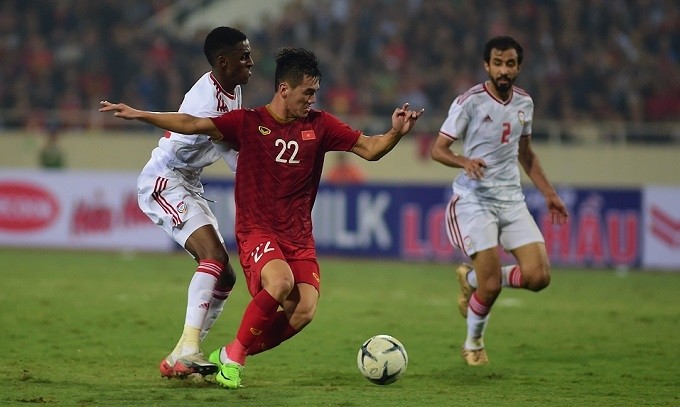 Vietnam forward Nguyen Tien Linh (in red) in action during their Group G clash against the United Arab Emirates in the 2022 World Cup Asian qualifiers round two on November 14.

Despite having been drawn in a tough group in the second round of the 2022 World Cup Asian qualifiers, with the presence of the United Arab Emirates, Thailand, Malaysia and Indonesia, Park Hang-seo's Vietnamese side displayed an extremely amazing form to reign atop Group G with an unbeaten run.
After five of the total eight matches, the Golden Dragons have won 11 points and are standing a great chance to progress into the final round of the World Cup qualifiers, which features the 12 strongest Asian teams.
Ho Chi Minh City 1 close in on title record at National Women's Championship
Ho Chi Minh City 1 were crowned champions at the 2019 National Women's Championship with one game in hand. This was the eighth time that the team took the honour, two behind the record of 10 titles currently held by the Hanoi team.
Two players of HCM City, namely Huynh Nhu and Chuong Thi Kieu, had an extremely successful year as they were not only champions at the club level, but also swept two more titles at the national team level with the AFF Cup and the SEA Games victories.
2019 – An eventful year for VFF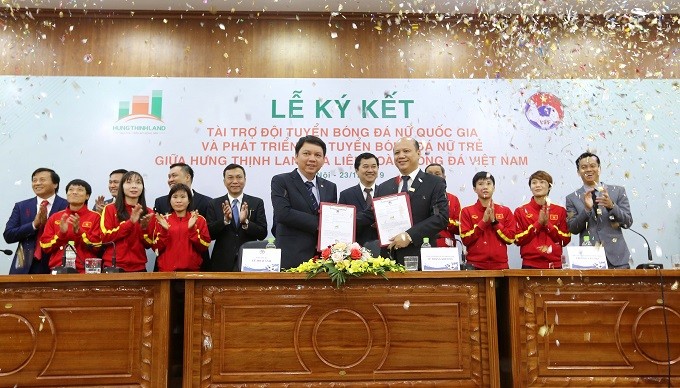 VFF General Secretary Le Hoai Anh (L) and General Director of Hung Thinh Land Le Trong Khuong sign a sponsorship contract on December 23.

The VFF implemented a serious of outstanding domestic and foreign affairs activities in 2019. The federation signed contracts with corporations and big companies to comprehensively develop Vietnam's men's and women's football, towards realising the World Cup dream in the near future.
The Vietnam Daily Football Newspaper (Bao Bong Da), the voice of the VFF, effectively fulfilled its function and task of disseminating activities of the VFF in particular and Vietnamese football as a whole. Specifically, the VFF successfully organised the AFF Awards Night 2019, attracting the attention of football lovers from countries across the region and receiving high appreciation from the AFF.