During the working sessions, Xuan affirmed that leaders and people of Vietnam always apprecitate sentiments and support from the government and people of Bulgaria for the Southeast Asian nation in the past more than 70 years, while expressing her hope for strengthening the traditional friendship and multifaceted cooperation between the countries in all fields.
Xuan spoke highly of the sound diplomatic ties between the two countries, with regular exchanges of high-ranking delegations and close and effective cooperation at international and regional forums.
She underlined that the two governments need to step up exchanges between ministries and sectors, especially economic management agencies, to seek solutions to promote trade and investment cooperation, based on the sides' strengths and potential.
Vice President Vo Thi Anh Xuan meets with Bulgaria's caretaker Prime Minister Stefan Yanev in Sofia on October 26. (Photo: VNA)
They are urged to capitalise on chances brought by the EU-Vietnam Free Trade Agreement and the EU-Vietnam Investment Protection Agreement (EVIPA).
Xuan took the occasion to ask the Bulgarian government to support the EU's removal of the 'yellow card' on Vietnam's fisheries sector, and work together to hold a meeting of the Inter-Governmental Committee on Economic Trade and Scientific Technological Cooperation.
She affirmed that Vietnam is willing to create favourable conditions for Bulgarian firms to invest and operate in Vietnam, especially in fields that the European nation is strong in and Vietnam has demand for, like pharmaceutical products, food processing and information technology.
She suggested the two sides enhance cooperation in traditional fields as well as the potential ones of labour, innovation and clean energy.
Bulgaria's caretaker Prime Minister Stefan Yanev affirmed that Vietnam is a priority partner of the country in Asia, saying that the Bulgarian government will urge the parliament to promptly ratify the EVIPA.
The Bulgarian government will also bolster bilateral cooperation in all spheres, especially economy and trade-investment, Yanev said, affirming that Bulgaria will soon complete necessary procedures to ink agreements in culture and tourism in the new period.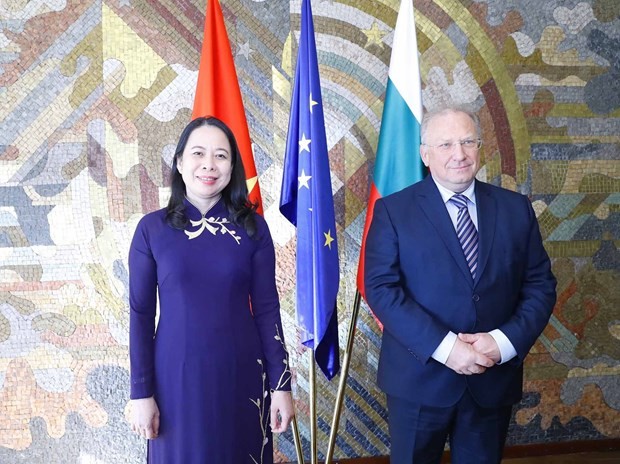 Vice President Vo Thi Anh Xuan is active in Bulgaria (Photo: VNA)
For his part, Foreign Minister Svetlan Stoev congratulated Vietnam on successfully undertaking the ASEAN Chairmanship last year and serving as a non-permanent member of the United Nations Security Council.
He proposed the two countries increase high-level dialogues and maintain political consultations between foreign ministries.
Vietnam and Bulgaria should effectively take advantage of resources from former students and the Vietnamese community in Bulgaria to promote the traditional friendship in various fields, notably trade, investment, education, culture, people-to-people exchanges and cooperation between localities.
Also on October 26, the Vietnamese Vice President attended a Vietnam-Bulgaria business forum with the participation of 30 firms from both sides. She also visited Sopharma, Bulgaria's largest pharmaceutical group.