PM Chinh said that the Vietnam Defence 2022 is a good chance for defence policymakers and defence industry firms to meet and seek partnership towards a world of peace, cooperation and prosperity. He welcomed the contributions of partners in the exhibition.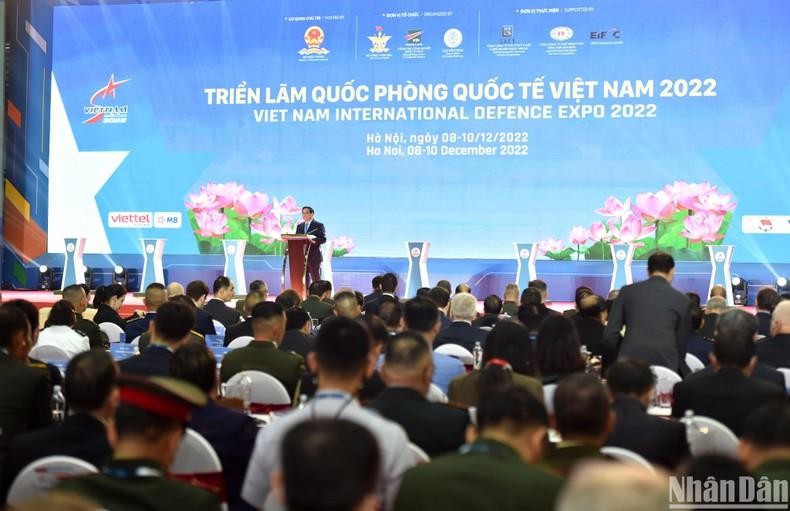 Prime Minister Pham Minh Chinh speaking at the event (Photo: Thanh Dat/NDO)
The Government leader highlighted Vietnam's foreign policy of independence, self-reliance, diversification and multilateralisation, being a good friend, trustworthy partner and responsible member of the international community; promoting cooperation for peace and development on an equal and mutually beneficial basis, abiding by the United Nations Charter, respecting independence, sovereignty and territorial integrity, non-interference in internal affairs of states, contributing to peace, national independence, democracy and social progress all over the world.
He underlined that Vietnam's defence policy is for peace, self-defence, and the people.
The Vietnam People's Army has actively joined bilateral and multilateral defence cooperation with countries around the world, he said, noting that the defence industry partnership and the Vietnam Defence 2022 are opening new opportunities for collaboration and exploration of the development trend of military and security equipment and technologies in the world, helping diversify the channels of procurement, reception and transfer of foreign technology into production, and provide military supplies and logistics services to meet the needs of armed forces of countries for national defence and the protection of people in the face of traditional and non-traditional security challenges, he stated.
The PM held that this is a good chance for countries and partners to further foster the relations, and for Vietnam to welcome international friends and introduce its nation, people, culture and art as well as promote itself as a peace-loving, friendly, hardworking and hospitable country.
Following the opening ceremony, PM Chinh and delegates visited booths displaying defence industry products, the Vietnam cultural space and an area showcasing the country's economy-defence achievements.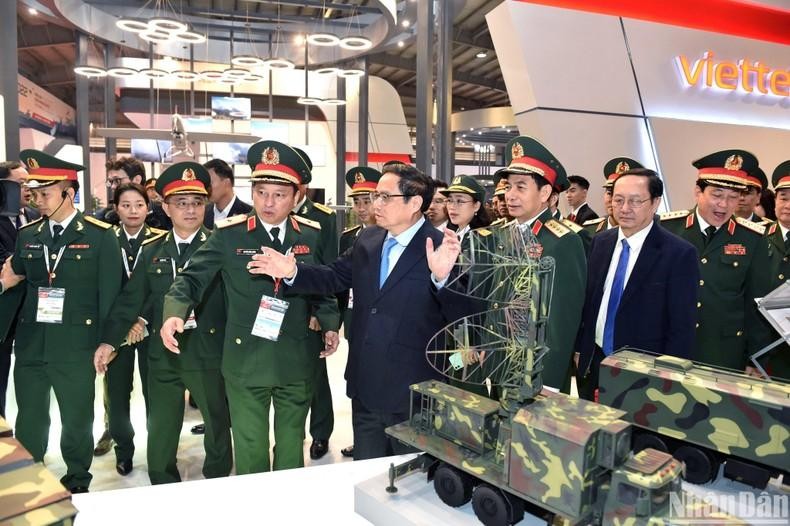 Prime Minister Pham Minh Chinh attends the expo (Photo: Thanh Dat)
The Vietnam Defence 2022 covers an area of over 50,000sq.m, including more than 20,000sq.m of outdoor area. It attracts 174 enterprises from 30 countries.
A number of conferences will be held within the framework of the event, including those on digital transformation and application in defence, cooperation in defence industry between Vietnam and other countries, and a forum on Vietnam-Japan defence industry partnership.