The top legislator underlined the significance of his visit, the first by a high-ranking leader of Vietnam to New Zealand after the 13th National Party Congress and the COVID-19 pandemic put under control. He noted that Vietnam is the first strategic partnership of New Zealand in the Asia-Pacific region.
The two sides held that with the foundation of the nearly 50-year ties and 13-year comprehensive partnership and a strategic partnership since 2020, along with the official visit to Vietnam by New Zealand Prime Minister Jacinda Arden in November, this visit will help further deepen the relationship between the two countries.
NA Chairman Hue said he hopes Vietnam and New Zealand will promote collaboration through the Party, Government, parliament and people-to-people exchange channels.
Kiro underlined that the relationship with Vietnam has a strategic importance to New Zealand, suggesting that the two sides further bolster their partnership amid a changing world for the interest of both peoples as well as for peace, stability and prosperity in Asia-Pacific.
She said that after the pandemic was put under control, 14,000 New Zealand tourists travelled Vietnam and the figure is likely to continue to rise in the time to come. She congratulated Vietnam on the achievements that the country has gained so far, and expressed her hope to visit Vietnam soon.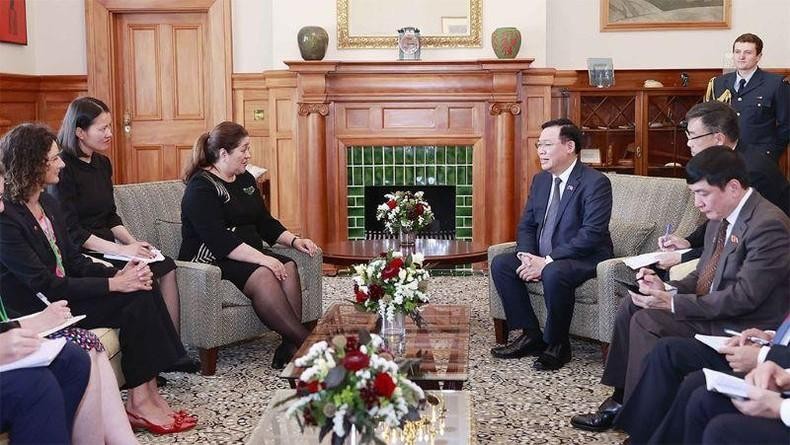 An overview of the meeting (Photo: VNA)
The two sides agreed that the strategic partnership between Vietnam and New Zealand has been growing, even during the pandemic period, with regular high-level meetings, contributing to reinforcing their political trust and motivating the bilateral cooperation in all fields.
Two-way trade has reached 1.3 million USD and is heading to the target of 2 billion USD in 2024, they noted, adding that cooperation in the fields of agriculture, labour, education and people-to-people exchanges has also continued to be promoted.
NA Chairman Hue told Governor-General Kiro that during this visit, he will witness the exchange of an agreement on the import of New Zealand's strawberry and pumpkin to Vietnam, and during the recent Vietnam visit by PM Jacinda Ardern, New Zealand also agreed to import pomelo and lemon from Vietnam.
The two sides concurred to further increase the exchange of delegations at all levels and through all channels in the time to come, while promoting the bilateral partnership in all fields besides traditional areas such as security, defence, education-training, agriculture, and labour. They will expand the cooperation to other potential fields such as climate change response and digital transformation, while continuing to support and coordinat with each other at regional and international forums.
NA Chairman Hue thanked New Zealand for assisting Vietnamese citizens during the pandemic, and expressed his hope that the New Zealand Government will continue backing the Vietnamese community in the country to settle down, integrate into the local society and make contributions to the host country and the growth of bilateral ties.