This is an activity in a series of events to celebrate the 60th anniversary of Vietnam – Laos diplomatic ties (September 5) and the 45th anniversary of the signing of the Vietnam-Laos Treaty of Friendship and Cooperation (July 18). The event is also a practical activity that continues to affirm the special friendship and solidarity between the two peoples.
The opening ceremony was attended by Tran Tuan Anh, Politburo member, Chairman of the Party Central Committee's Economic Commission; Nguyen Van Thang, Member of the Party Central Committee, Secretary of the Dien Bien Provincial Party Committee; leaders of ministries and central agencies of Vietnam and Laos.
In addition, the event also had the presence of representatives of leaders from 20 provinces, sharing the Vietnam-Laos border and thousands of actors, artisans and people of the ethnic communities of Dien Bien province.
Deputy Minister of Culture, Sports and Tourism Hoang Dao Cuong affirmed that cultural exchange, sports and tourism activities of ethnic minorities in the border areas of the two countries, contribute to honouring the stature and value of the special friendship between Vietnam and Laos, founded by late Presidents Ho Chi Minh, Kaysone Phomvihane and Souphanouvong and nurtured by generations of the two countries leaders, revolutionaries, and peoples.
Lao Deputy Minister of Information, Culture and Tourism Onuepouang Khaophanh, also affirmed that the organisation of the festival is a very important and meaningful activity for Vietnam and Laos.
The event will be an opportunity to promote the potential and strengths of the ethnic minority groups to domestic and international friends while raising public awareness of developing Vietnamese culture.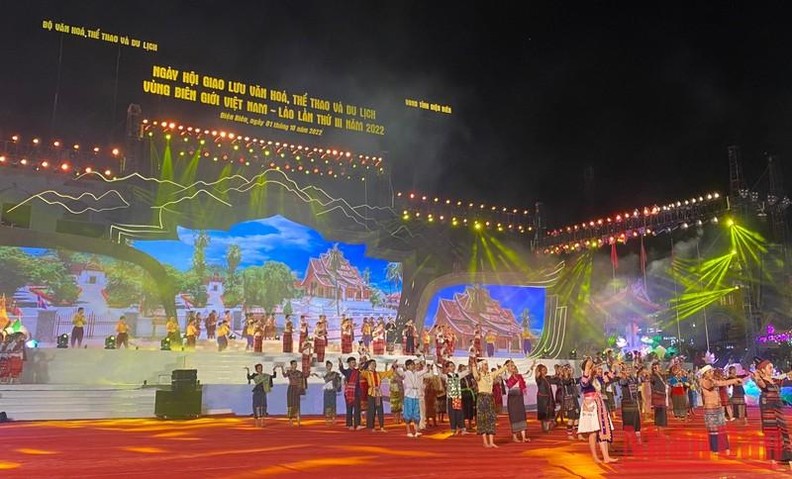 Actors and artisans from Vietnam and Laos perform art programmes at the opening ceremony of the festival.

Under the framework of the festival, from October 1 to the end of October 3, a wide variety of cultural, sports and tourism activities will be organised, including the reproduction of traditional festivals and cultural rituals, a show of traditional costumes, an exhibition promoting cultural and tourism products, the land and people and the socio-economic achievements of the localities, art programmes highlighting Vietnam – Laos friendship, an exhibition introducing the ethnic minority groups in the borders areas between Vietnam and Laos, competitions of traditional sports, field trips and seminars on tourism development.