Member of the Party Central Committee (PCC) and Editor-in-chief of Nhan Dan Newspaper Le Quoc Minh, who is also Deputy Head of the PCC's Commission for Communications and Education and Chairman of the Vietnam Journalists' Association, made the statement while receiving a high-ranking delegation of the Lao People's Revolutionary Party (LPRP)'s Commission for Propaganda and Training at Nhan Dan Newspaper's head office in Hanoi on December 14.
The Lao delegation was led by Khamphan Pheuyavong, Secretary of the LPRP Central Committee, head of its Commission for Propaganda and Training, and Chairman of the LPRP Central Committee's Theoretical Council.
At the reception, Nhan Dan Newspaper editor-in-chief Le Quoc Minh emphasised that to promptly meet the information needs of readers, Nhan Dan Newspaper has launched an In-depth Knowledge page to provide extensive information in many fields, through an impressive and modern presentation.
Over the past more than 70 years, Nhan Dan Newspaper has always played the most important role in the Party newspaper system of Vietnam, Minh added
He also said that in recent years, Nhan Dan Newspaper has constantly innovated and promoted digital transformation to meet the development trend of the press.
Editor-in-Chief Le Quoc Minh affirmed that, as a mouthpiece of the Communist Party of Vietnam, Nhan Dan Newspaper always attaches great importance to its cooperation with Pasaxon Newspaper, the mouthpiece of the LPRP. He expressed his hope that the two newspapers will further develop their activities in the near future.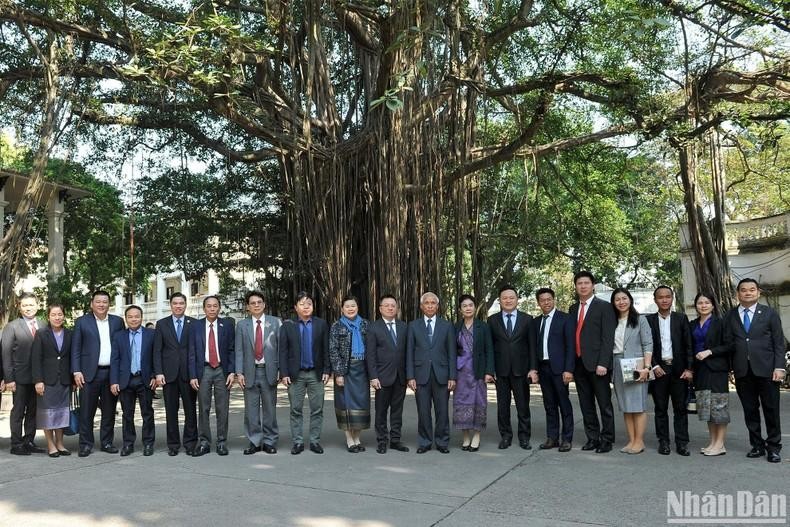 The delegates take a photo at the head office of Nhan Dan Newspaper. (Photo: NDO)
For his part, Khamphan Pheuyavong congratulated Nhan Dan Newspaper for its achievements while expressing his belief that the newspaper will produce more impressive press works and gain more achievements during the digital transformation process.
He also noted that the LPRP's Commission for Propaganda and Training will create the most favourable conditions for both mouthpieces of the two Parties to cooperate more deeply.
He noted that the great friendship between Vietnam and Laos is the driving force for Nhan Dan Newspaper and Pasaxon Newspaper, to overcome difficulties to further strengthen their cooperation.