The journey to explore the beauty of Hoang Lien Son and Muong Hoa Valley runs along the road through the villages from Sin Chai, Cat Cat, Y Linh Ho, and Ta Van to Ban Ho Commune.
Muong Hoa Valley in Hau Thao Commune is about 8km southeast of Sa Pa Town. From Sa Pa, going through a pass along a high mountain range, you will come to Muong Hoa Valley.
Visitors can enjoy the pristine and splendid beauty of the Hoang Lien Son Mountain range by taking the cable car that connects Muong Hoa Valley with Fansipan, which is dubbed the roof of Indochina.
Ban Ho is also the place where Muong Hoa Stream joins La Ve Stream. Muong Hoa Stream stretches about 15 km, passing through the communes of Lao Chai, Ta Van and Hau Thao, and ends in Ban Ho. Meanwhile, La Ve Stream flows to Ban Ho from the high mountains and deep forests.
There in Ban Ho, the clear stream water flows through the mountains, winding around the green rice terraced fields.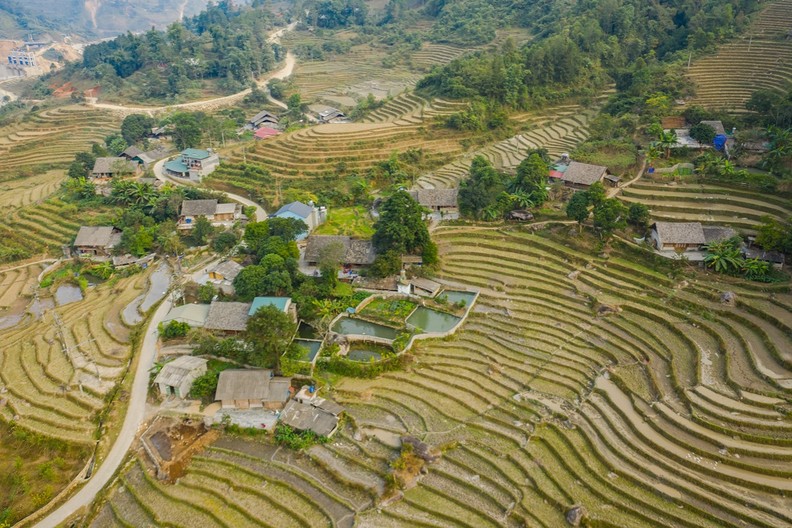 An aerial view of Ban Ho commune
Like a "resort oasis" in the heart of the valley, the hot mineral spring provides visitors with a large swimming pool amidst the wild and poetic scenery.
As a natural therapy Immersing in the warm water can help tourists improve their health, relax their muscles, and balance their mind. Thanks to its natural friendly design, from the mineral bath, people can also enjoy the cool breeze while looking at the wild and poetic scenery in front of their eyes.
The attraction of Ban Ho can also be found in indigenous cuisine with fresh and delicious dishes such as grilled stream fish, pickled bamboo shoots, sticky rice cooked in bamboo, and grilled chicken and pork.
From Ban Ho Commune, visitors can go deep inside along winding trails to explore the villages of the Tay ethnic people. The traditional houses on stilt, costumes and time-honoured customs of the Tay ethnic group will surely leave a deep impression on tourists.