The event was attended by Politburo members Vo Van Thuong, Permanent member of the Party Central Committee's Secretariat; Tran Tuan Anh, Head of the Party Central Committee's Economic Commission; and members of the Party Central Committee: Huynh Thanh Dat, Minister of Science and Technology; Pham Tat Thang, Deputy Head of the Party Central Committee's Commission for Mass Mobilisation; and Bui Quang Huy, alternative member of the Party Central Committee and the First Secretary of the Ho Chi Minh Communist Youth Union (HCM CYU) Central Committee.
Speaking at the ceremony, Tran Tuan Anh praised the efforts of 86 exemplary young entrepreneurs in recovering and developing the country's economy after the COVID-19 pandemic.
He affirmed that the Party and State always understand and share in the difficulties and challenges that businesses and entrepreneurs must face and overcome.
In recent time, the Vietnam Young Entrepreneurs' Association has grown much stronger, as shown by always pioneering new initiatives, leaving a mark, and affirming its prestige in the business community and society.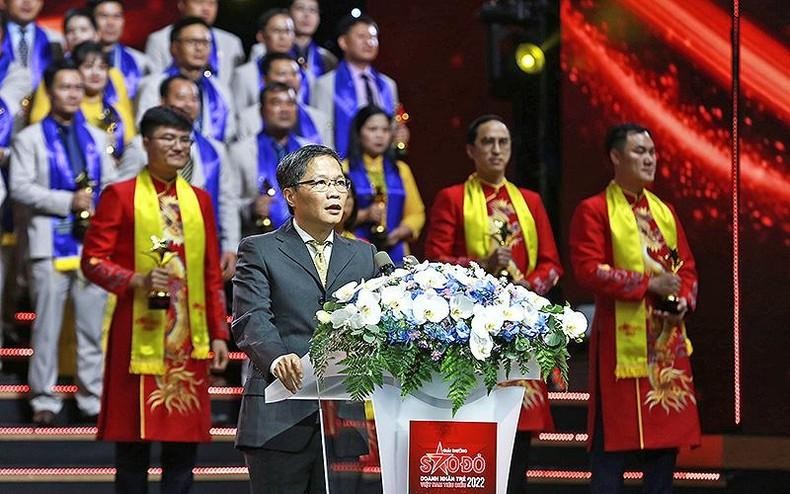 Politburo member Tran Tuan Anh speaks at the ceremony.

Launched last July, through three rounds of voting, the Red Star Awards - Vietnam Young Entrepreneur 2022 selected 86 exemplary young Vietnamese entrepreneurs in 2022. Of which, 10 outstanding faces received the Red Star Award in 2022.
Companies owned by Red Star Awards winners generated nearly 60 trillion VND (over 2.4 billion USD) in revenue in 2021, contributed over 2 trillion VND to the State budget, and created jobs for 10,600 employees.