This is part of the activities in celebration of the 35th anniversary of the adoption of UNESCO Resolution 24C/18.65 honouring the late President, held by the Foreign Ministry and relevant agencies at home and abroad.
Addressing the event, Assistant to the Foreign Minister Le Thi Thu Hang highlighted the significance of the resolution, affirming that the adoption is a recognition of President Ho Chi Minh's great contributions to the common struggle of the world's people against oppression and injustice, for national independence and social progress; and honours noble ideals, cultural identity and aspirations of the late leader in particular and the Vietnamese people for a world of peace, equality and happiness.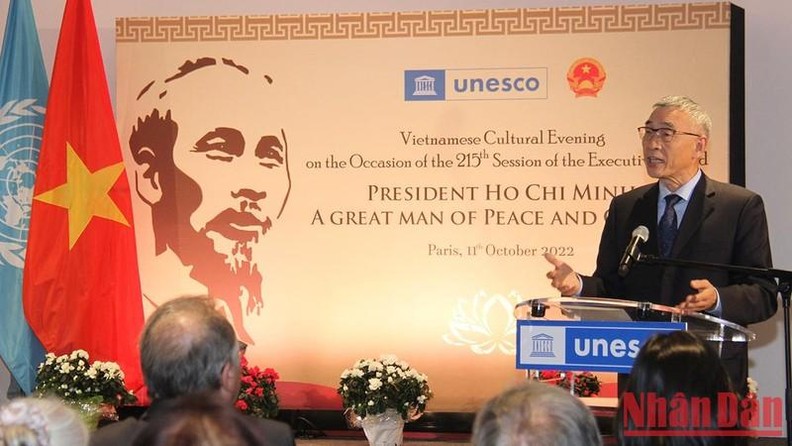 UNESCO Deputy Director-General Xing Qu speaks at the event. (Photo: NDO)
Xing Qu, UNESCO Deputy Director-General, expressed his honour to attend the event and stressed that President Ho Chi Minh has left an imprint on human history.
He affirmed that with the UNESCO making this decision, member states all want to honour those who have always pursued an ideal in which the power of education and culture can nurture the identity and aspirations of the peoples.
At the event, around 200 participants who are leading officials and members of the UNESCO Secretariat, heads of other countries' permanent delegations, and ambassadors to UNESCO, visited a photo exhibition featuring the late President's life and career.