In the early days of 2022, a number of accommodation establishments reached room occupancy of over 90%. Meanwhile, the Son Doong Cave adventure tour was fully booked for 2022.
Wearing a backpack weighing about 30 kg while quickly moving on sharp cat-eared rocks or sometimes gently jumping over a slippery mossy shallow stream bed, safety assistant Hoang Hai (born in 1987) from Phong Nha Township still talked with and encouraged reporter Hoang My Hanh and other travellers of the group: "In the forest, the places with many leeches are home to many animals. Now people do not hunt and trap wild animals anymore. It has recently rained, so there are many leeches, you should check your clothes to cover your feet and hands carefully". During more than 20 km of walking through the forest, the travellers were constantly amazed and delighted by the beautiful nature: the giant ancient trees covered by moss, mistletoe or orchid branches fluttering in the wind as well as small streams of water creeping underfoot and then forming large and clear puddles. Approaching the giant cave arches of Ho (Tiger), Over and Pygmy caves, the whole group of 30 members looked so small amidst the magnificent wonder of the nature. During the days living in Phong Nha – Ke Bang National Park without all utilities such as electricity or the internet, the travellers had a rare enjoyable time with conversations, folk singing contests and listening to birds' chirping and the sound of flowing streams. The pure and sparkling sky is a sweet and fairy-tale scene that takes travellers to their sleeps. It was a wonderful experience that cannot be put into words while the vacations in luxurious and modern resorts could not be compared.
Joining the tour exploring Tiger Cave and Kong Sinkhole, a three-day two-night adventure tour organised by Jungle Boss Co., Ltd (Phong Nha Township), reporter Hanh and other visitors were impressed by not only the beauty of wilderness and the magnificent caves but also the thoughtfulness, friendliness and deep understanding about the mountains and forests from the support team, including guides, safety assistants, porters and chef. At every stop, the porters clean up trash very quickly and cleanly. They did not forget to advise visitors to keep the volume at a moderate level to avoid affecting animals as well as not to touch strange plants, break stalactites and take away the "dark pearls". The word "porter" has become familiar in recent years, especially for those who love adventure travel and picnics. They not only deliver goods but also be trusted travel companions who make experiences far more engaging than reading through books or screens. The native porters have contributed significantly to the success of the expeditions to caves, forests and mountains in Quang Binh. For the porters, they have had the opportunity to meet many visitors from various regions, nations and cultures, so they can expand their living experiences and raise their own awareness of sustainable tourism. Moreover, their next generation does not face difficulties in finding a livelihood but being oriented to the right and positive directions. Many "old" porters in Phong Nha-Ke Bang National Park have their children studying the majors of tourism and foreign languages, working as porters, or opening homestay and restaurant services.
A few years ago, I had the opportunity to participate in a unique local activity named "Quang Binh Cave Festival" and become a member of a challenging trekking tour into Sinh Ton (Survival) Valley and Toi (Dark) Cave. Now, tours of ecological experiences and exploring Quang Binh's caves have increased both in terms of quantity and quality, conquering not only foreign visitors but also domestic travellers. Tran Anh Tram (Hanoi), a young tourist shared: "After two years of intense pandemic, my friends and I decided to travel to Quang Binh to go deep into the forest and experience the pristine and safe nature. Packaged and self-contained cave tours, which have only 10-20 guests, have almost no contact with the residential community but only employees of the travel company. Immersing ourselves in nature brought us special emotions as well as helped us cherish life more while becoming more conscious of protecting the environment and wildlife."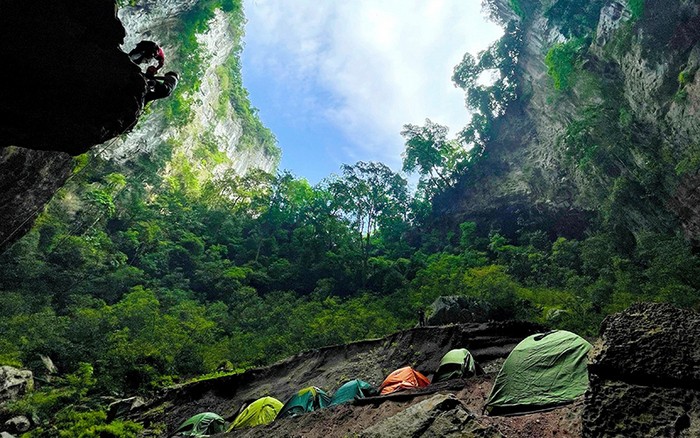 Camping and swinging at Kong sinkhole in Phong Nha-Ke Bang National Park

Despite many difficulties due to COVID-19 pandemic, the cave tourism of Quang Binh has been continuously appreciated by many prestigious tourism magazines and rankings such as Phong Nha – Ke Bang National Park listed among top 39 best destinations in 2022 (by the US-based AFAR magazine) and top 15 most favoured national park (TripAdvisor), and Son Doong as one of seven wonders of the world in 2022 (CNN Traveller, the UK). The 'kingdom of the caves" has been described as a destination with majestic and breath-taking scenery, unique experiences and hospitable and attractive indigenous people. It has attracted tourists since 2010, when Son Doong Cave was announced as the largest natural cave on the planet. Phong Nha-Ke Bang National Park has gradually become a model for nature reserves in Vietnam. Recently, on February 3, the international film crew of the famous BBC Landmark Natural History Series program entered Son Doong Cave to make a film about discovering nature, promising to bring global audiences to the vivid and splendid footage of the world in Quang Binh's caves. Howard Limbert, a veteran expert of the British Cave Research Association (BCRA), said that since 1990, he and a group of experts have conducted 19 research trips in Quang Binh. The cave system is very massive, containing many valuable scientific research values for not only Vietnam but possibly the whole world.
Quang Binh Cave tourism now consists of two main segments: the popular experience product with short duration and gentle activities, including the Phong Nha and Thien Duong caves, Chay River-Toi Cave, and Nuoc Mooc Stream; and expedition and adventure product line that need higher requirements of physical and spiritual strength and costs such as Son Doong Cave, Va Cave – Nuoc Nut Cave, Tu Lan Cave – Tien Cave, En Cave, Tiger Cave and Ma Da Valley – Tra Ang Valley. In addition to exploring nature, visitors have the opportunity to learn about the life and culture of local ethnic minorities such as Bru-Van Kieu or Chut, as well as their history during the war against the US.
In 2022, in addition to certain existing and resonant products, Quang Binh will make efforts to provide visitors with many more attractive experiences. Especially, the tour to discover the mysterious depths of Phong Nha Cave by kayak at night was put into operation in January. Instead of taking motorboats, visitors can kayak by themselves on the longest underground river in the world to enjoy an absolutely quiet space, the magical stalactites and the delicious dishes. Jungle Boss, a unit specialising in adventure tours, also launched a new tour to the top of Kong Sinkhole with the experience of swinging from a position of 100 metres and throwing oneself to the air surrounded by forests and mountains. Meanwhile, Oxalis Adventure, a name associated with Quang Binh's caves, will officially operate tour to explore the deep forest of Ba Cave in April 2022. General Director of Oxalis Nguyen Chau A said each delegation will consist of up to six guests who will use dark equipment, camp far away from the area where wild animals drink water, and move gently to minimise the impact on the creatures. Visitors will have the chance to observe and learn about the environment and living habits of many rare and precious wildlife species that are protected in Phong Nha-Ke Bang National Park.