The province currently has over 1,800 historical sites, including three special national sites and 175 national sites, as well as six artefacts recognised as national treasures.
Notable sites include Pho Hien in Hung Yen City, Nom Village, Nom Temple and Thai Lac Temple in Van Lam District, Da Hoa and Da Trach Temples in Khoai Chau District, An Xa Temple in Tien Lu District, Phu Ung Temple in An Thi District, Tong Tran Temple in Phu Cu District and Le Huu Trac Temple in Yen My District.
Hung Yen Province also has a rich trove of intangible heritages, with over 500 traditional festivals and 147 traditional craft villages, of which two traditional festivals and a form of folk performance art have been inscribed on the list of national intangible heritages.
To preserve and promote the value of its cultural sites, Hung Yen has made an annual investment in renovating such sites. The renovation plan for the 2016-2020 period produced a marked result when severely dilapidated sites were rehabilitated promptly.
On the principle of the state and people joining hands, based on state funding, many localities have mobilised financial resources from the people, socio-economic organisations and donors, to spend on renovation work.
To protect and promote intangible cultural heritages, Hung Yen Province has selected notable cultural intangible cultural heritages for long-term preservation, such as the Da Hoa-Da Trach Festival, the Dau An Temple Festival, the Quan Xuyen Communal House Festival, the festival to pray for rain at Thai Lac Temple, the Cao Thon incense-making village, bronze casting in Long Thuong and silversmithing in Hue Lai. The art of trong quan singing and the Tong Tran Temple Festival has been included on the national cultural heritages list.
Every year, the Hung Yen Department of Culture, Sports and Tourism work with localities to open classes of ca tru and trong quan singing for over a thousand people, and holds many programmes to promote local performing arts to the public.
Currently, Hung Yen is promoting its cultural heritages through various forms, such as leaflets, social media networks, video clips and by participation in trade fairs and exhibitions.
Several sites have become popular destinations for pilgrims, such as the Pho Hien historical complex, the Da Hoa-Da Trach complex, An Xa Temple, Phu Ung Temple, Nom Village and Nom Temple.
Visitors to cultural sites in Hung Yen will have an opportunity to appreciate the aesthetic values of traditional Vietnamese architecture and arts as seen in the architectural relics of the Ly Dynasty at Huong Lang Temple, the Tran Dynasty at Thai Lac Temple and the Le-Mac period at Chuong Temple, Nhan Thap Temple, the communal houses of Da Nguu, Cuu Cao, Quan Xuyen, Binh Dan and Duyen Yen and the Nguyen Dynasty at the Xich Dang Temple of Literature, Me So Temple and Pho Temple.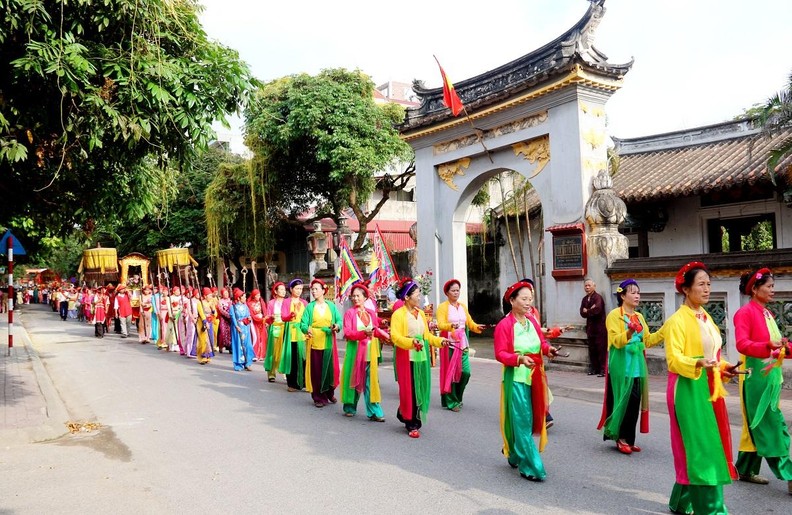 Pho Hien Folk Culture Festival in Hung Yen City.
With the harmony between natural scenery and architectural blocks, along with elaborate carvings, each temple is a living museum featuring various valuable artefacts, each of which is a complete work of art.
A notable feature is that religious architecture in Hung Yen Province bears the strong characteristics of folk arts, reflecting the ancient achievements and creativity of artisans throughout history.
For now, the province will continue to survey, collect and research local intangible heritages, especially those facing the risk of loss, as well as formulate plans to preserve typical cultural values of the community, and constantly reproduce and pass on intangible cultural heritages from generation to generation oratorically, as well as the transfer of techniques and performing.
Hung Yen is also working to digitalise information on its intangible cultural heritages and select outstanding intangible cultural heritages to be considered for inclusion on the national list.
In addition, Hung Yen will work to further enhance the quality of tourism products with local characteristics by introducing tours to explore cultural and historical sites, traditional craft villages and scenery along the Red River Dyke, and promoting festival tourism and ecotourism.
Hung Yen will facilitate investors with incentive policies to develop the province's tourism sector so that Hung Yen will soon become a distinctive cultural heritage centre in the Red River Delta and a safe, friendly and attractive destination.