President attends 'Homeland Spring' programme in Hanoi
President Nguyen Xuan Phuc joined leaders of ministries, sectors, and localities, as well as Overseas Vietnamese intellectuals and entrepreneurs, at the 'Xuan Que Huong' (Homeland Spring) programme 2022, which was held at the Hanoi Opera House, on January 22 by the State Committee for Overseas Vietnamese Affairs, under the Ministry of Foreign Affairs.
Speaking at the event, President Nguyen Xuan Phuc praised Overseas Vietnamese for promoting solidarity to overcome difficulties caused by the COVID-19 pandemic, while continuing to make valuable contributions to the fatherland.
He took this occasion to extend his sincere greetings and wishes for a happy new year, to the delegates and Overseas Vietnamese, who are living, working and studying abroad.
NA Standing Committee concludes seventh session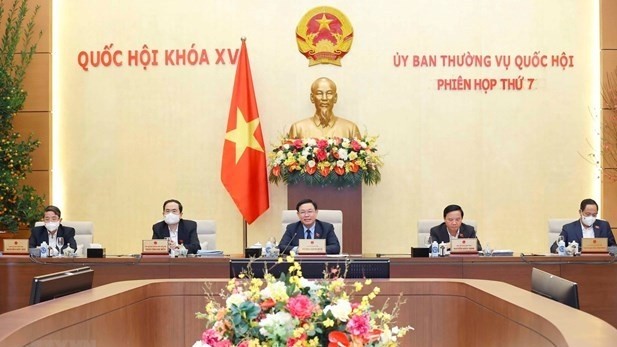 National Assembly Chairman Vuong Dinh Hue delivers a speech at the event (Photo: VNA)
The National Assembly (NA) Standing Committee wrapped up its seventh sitting under the chair of Chairman Vuong Dinh Hue on January 19.
With the review of all agenda completed, Hue asked for the early issuance of the session's conclusion which must include the committee's opinions on a ODA-funded project portfolio, and an assessment of its activities and performance in the last year based on which a plan for 2022 will be developed.
The top legislator assigned the NA Secretary-General and Chairman of the NA Office to advise the committee on arranging schedule for a national conference of full-time NA deputies.
Second centre launched for victims of gender-based violence
The second one-stop service centre to support victims of gender-based violence in Vietnam called "Ngoi nha Anh Duong 2" was officially put into operation in the central province of Thanh Hoa on January 21.
This is an effort within the framework of cooperation between the Ministry of Labour, Invalids and Social Affairs (MoLISA) and the UN Nations Population Fund (UNFPA) in Vietnam to reduce gender-based violence, especially violence against women and girls, under a project on mitigating the impact of COVID-19 on vulnerable groups and ensuring the implementation of sustainable development goals (SDGs) in Vietnam funded by the Japanese government.
The centre provides integrated, essential and comprehensive services to people suffering from gender-based violence, including health, social, justice and protection services.
VinFuture Prize honours mRNA vaccine researchers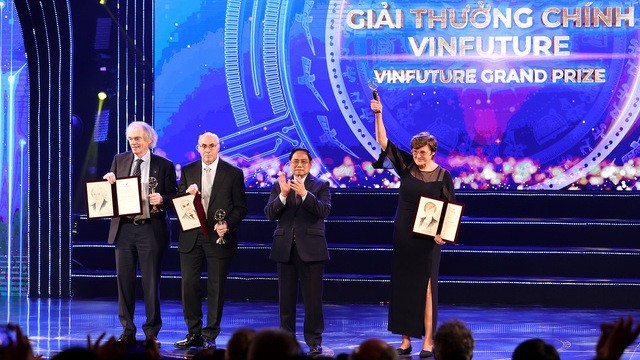 At the award ceremony (Photo: VNA)
VinFuture Prize, an international award founded in Vietnam to honour scientific achievements, gave out 4.5 million USD worth of prizes to several global scientists on January 20.
Managed by the VinFuture Foundation, which was set up by Vingroup Chairman Pham Nhat Vuong and his wife Pham Thu Huong, the annual VinFuture Prize is a global science and technology award to recognise groundbreaking scientific and technological discoveries.
It comprised a VinFuture Grand Prize valued at 3 million USD and three special prizes, each worth 500,000 USD, for female innovators, innovators from developing countries, and those with outstanding achievements in emerging fields.
Three scientists, namely Katalin Kariko and Drew Weissman from the US and Pieter Rutter Cullis from Canada, were awarded with the VinFuture Grand Prize for their contributions to the development of the mRNA vaccine technology.
Zen Master Thich Nhat Hanh passes away at 95
Zen Master Thich Nhat Hanh passed away at Tu Hieu Temple in his birthplace Hue city, the central province of Thua Thien-Hue, early January 22 aged 95.
A memorial service for the Buddhist monk was held on January 23 morning at Tu Hieu Temple, and his body will be cremated on January 29.
Thich Nhat Hanh was ordained at Tu Hieu Temple. He later founded the Plum Village in France and many monasteries in other countries including the US, Germany and Thailand. His teachings on Buddhism have gained global influence.
Vietnamese entities honoured at ASEAN Tourism Forum
Representatives of Vietnamese localities and units honoured at the award ceremony (Photo: Vietnam National Administration of Tourism)
A total of 20 Vietnamese entities were honoured at this year's ASEAN Tourism Awards in four out of the five categories, namely ASEAN Green Hotel Awards, ASEAN MICE Venue Awards, ASEAN Clean Tourist City Awards, and ASEAN Sustainable Tourism Awards.
The the awards ceremony was held on January 19 within the framework of the ASEAN Tourism Forum (ATF) 2022, which took place in Sihanoukville, Cambodia, from January 16 – 20, under the theme "a Community of Peace and Shared Future".
With the number of awards honoured at ATF 2022, Vietnam's tourism has continued to position itself within the region and is an affirmation of a safe and sustainable destination for international tourists.
Ho Van Y named among world's top 10 futsal goalkeepers
Vietnamese futsal goalkeeper Ho Van Y has been named as one of the world's 10 leading futsal goalkeepers in 2021 by FutsalPlanet.
Y ranked 10th in the list with a total of 21 votes. This marks the second year in a row that the Vietnamese futsal goalkeeper has made the list compiled by FutsalPlanet which has been running since 2018.
First place in the list went to Thiago Mendes Rocha of Brazil with 299 votes. Elsewhere, second and third places went to Leonardo De Melo Vieira Leite "Higuita" of Kazkhstan and Nicolas Sarmiento of Argentina, respectively.