The exhibition, organised by the Vietnam News Agency (VNA), displayed 20 large-format photographs carefully selected from the VNA's archives.
They showcase significant and prominent moments in the bilateral relationship, high-level reciprocal visits between Vietnamese and Bangladeshi leaders, and Vietnam's landscape, people, and culture.
Among them, there are those capturing the events of Party General Secretary Nguyen Phu Trong receiving visiting Speaker of the Parliament of Bangladesh Shirin Sharmin Chaudhury in Vietnam, and of Prime Minister Nguyen Tan Dung and his Bangladeshi counterpart Sheikh Hasina witnessing the signing ceremony of an agreement to establish the Bangladesh-Vietnam Business Council.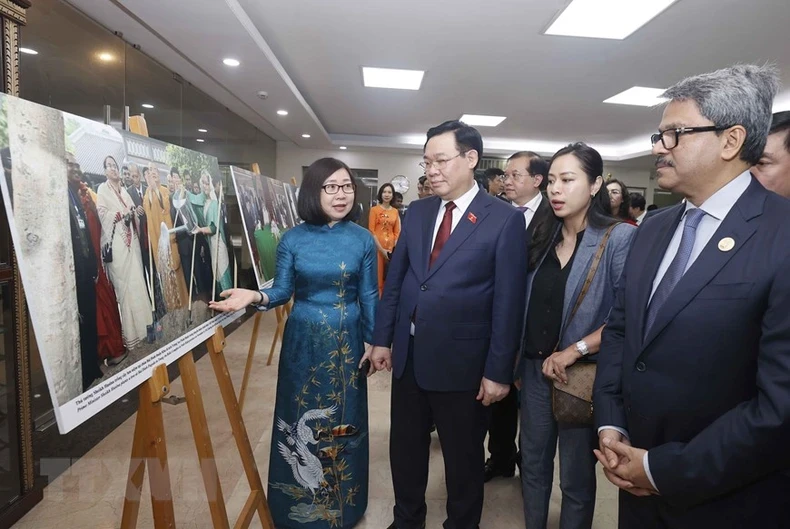 At the exhibition. (Photo: VNA)
The NA leader's current official visit to Bangladesh takes place in the context of the good development of the Vietnam-Bangladesh friendship and at a time when the two countries are celebrating the 50th anniversary of the establishment of their diplomatic relations (1973 - 2023).
Since Vietnam and Bangladesh set up their diplomatic ties on February 11, 1973, their traditional friendship and multifaceted cooperation have been continuously developed with political trust enhanced, which laid a firm foundation for the two nations to promote partnership across all fields.