In his opening remarks, NA Chairman Vuong Dinh Hue said that the NA Standing Committee will give opinions on the draft Land Law (revised), the draft Law on Social Insurance (revised for the second time), draft Archive Law (revised), draft Law on National Defence Industry, Security and Industrial Mobilisation, the draft Law on Organisation of People's Courts (revised), the draft Capital Law (revised), and the draft Law on Credit Institutions (revised).
He expected the NA Standing Committee to make careful consideration of a draft resolution on the application of supplementary corporate income tax in line with global regulations on prevention of tax base erosion, a draft resolution on the pilot application of support for investment in high technology, and a draft resolution on adjustments to the NA's report on the feasibility study of land acquisition, compensation, and resettlement project of Long Thanh International Airport.
Regarding the supervision work, Hue said a draft supervision plan and an outline of the report of the NA Standing Committee's supervision team on the implementation of policies and laws on ensuring traffic safety and order from 2009 to 2023 are on the session's agenda.
Besides, it will mull over reports by the NA thematic supervision group on the implementation of the NA resolutions on the National Target Programmes on new-style rural area building during 2021-2025, sustainable poverty reduction during 2021-2025, and socio-economic development in the ethnic minority-inhabited and mountainous areas during 2021-2030.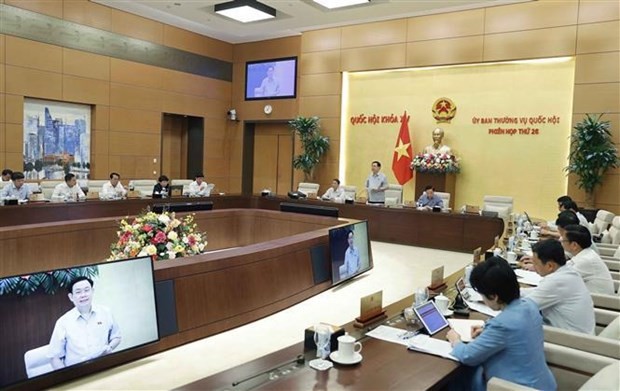 The NA Standing Committee will give opinions on seven draft laws and three draft resolutions. (Photo: VNA)
Members of the committee will give comments on the 2023 reports by the Chief Justice of the Supreme People's Court and the Prosecutor General of Supreme People's Procuracy, reports by the Government on the prevention and combat of corruption, criminals and law violations as well as judgement execution activities in 2023, and the 2023 report and auditing plan for 2024 of the State Audit Office.
They will also make preparations for the sixth NA plenary session.