Examining the resettlement area for 5,080 households who have to relocate to give space for the restoration of the Hue Ancient Capital, PM Chinh asked the province to continue to invest in the area's infrastructure, ensuring that residents enjoy similar or better living conditions compared to their old place.
He also directed the province to continue to respond to requests of the affected people in the spirit of harmonising benefits.
The PM lauded the residents in the resettlement area for their support to the project, saying it contributes to the preservation of the UNESCO-recognised World Cultural Heritage.
Visiting the Hue Royal Antiquities Museum at Long An Palace in the Hue Monument Complex, the Government leader asked Thua Thien-Hue and the Ministry of Culture, Sports and Tourism to work together to design a plan to construct the museum in a new place to avoid its impacts on the relic site.
He also presented gifts to the officials and staff of the museum.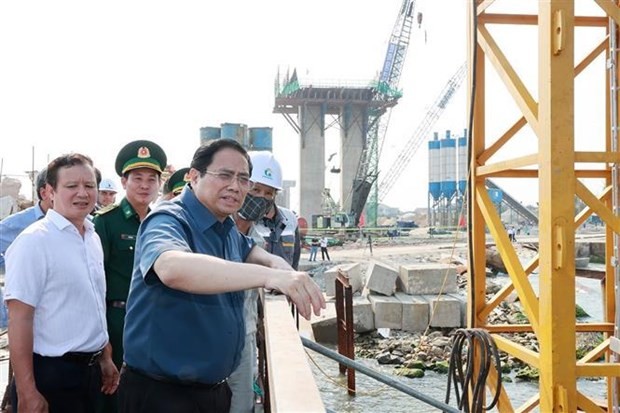 PM Chinh inspects the project to build a bridge crossing Thuan An estuary. (Photo: VNA)
Inspecting the project to build a bridge crossing Thuan An estuary, which was launched in March 2022 at a cost of 2.4 trillion VND and is scheduled to complete in 2025, PM Chinh said that the project is expected to fuel the maritime economic growth of the province, contributing to turning Thua Thien-Hue into a centrally-run city in the future.
He asked officials and workers involved in the project to ensure the quality and progress of the project.
Earlier on March 24, PM Chinh examined the Terminal T2 project of Phu Bai International Airport in Hue city.
The terminal is designed to have three stories, covering 10,118 sq.m to welcome 5 million passengers per year. Having a total investment of 2.25 trillion VND, it was scheduled to be completed in the fourth quarter of 2021. However, due to COVID-19 impacts, to date, the project has just finished 95% of its workload.
PM Chinh asked contractors to speed up the project, striving for its inauguration in April this year.
On this occasion, PM Chinh also offered incense to General Nguyen Chi Thanh at a museum in Hue city showcasing documents, photos and objects on the life and revolutionary activities of the military official during the nation's struggles against French colonialists and US imperialists.