The event gathered members of Vietnamese representative agencies in New York, commanders and officers of the Vietnamese army and police forces on duty at the UN peacekeeping missions in the Central African Republic, South Sudan, and Abyei region, and four Vietnamese peacekeeping officers on secondment at the UN headquarters.
In his remarks, Giang affirmed that Vietnam's active participation in peacekeeping since 2014 is an important policy and decision of the Party and State in the nation's integration process, reflecting the new position and power of Vietnam in the international arena.
He attributed Vietnam's peacekeeping achievements to efforts and contributions of all units involved, particularly officers and soldiers on duty at UN peacekeeping missions and headquarters.
The diplomat also noted that many UN leaders and international friends have highly appreciated the bravery, self-reliance, and flexible and creative approach of the Vietnamese peacekeeping forces in deploying their tasks and overcoming difficulties
On the occasion, Giang expressed his gratitude to Lieutenant Colonel Do Anh, the first Vietnamese peacekeeper to die on duty in the Central African Republic in early 2022. Participants observed a minute of silence to commemorate the more than 4,200 fallen UN peacekeepers over the past 75 years.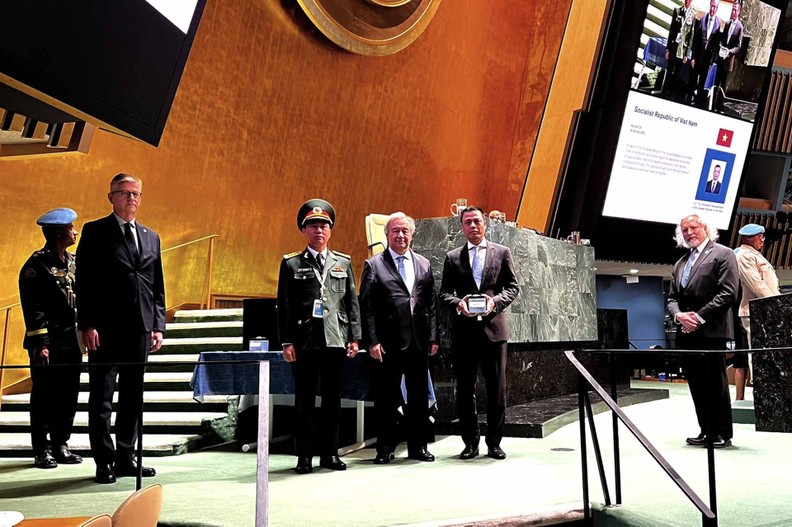 Ambassador Dang Hoang Giang, Permanent Representative of Vietnam to the United Nations, received the Dag Hammarskjöld Medal on behalf of Lieutenant Colonel Do Anh at the UN ceremony. (Photo: VNA)
In the morning of the same day, a ceremony marking the 75th anniversary and honouring the contributions and sacrifices of the "green beret" forces were held at UN headquarters. UN Secretary-General António Guterres presented the Dag Hammarskjöld Medal for the cause of international peace to servicemen who died while on duty under the UN flag in 2022, including Lieutenant Colonel Do Anh of Vietnam.
UN Secretariat officials lay flowers in memory of servicemen who died on duty under the UN flag. (Photo: VNA)