For the forestry sector, digital transformation has brought unification and simplified administrative procedures and contributed effectively to forest management, protection, and development.
According to Director of Forestry Tran Quang Bao, thanks to the application of information technology, the management and protection of forests has been increasingly strengthened and implemented with high results.
Effective control has led to a marked decrease in illegal exploitation and transportation of forest products as well as illegal hunting of wild animals.
The functional units have gradually controlled the situation of encroachment on land of special-use forests and protected forests; strictly manage the conversion of forests to other types of forests and the conversion of forest use purposes to other purposes.
At the same time, the area of special-use and protected forests has been maintained and developed through afforestation, zoning, and regeneration.
Practical effect
SMART is a set of data management tools and patrol reports that are officially applied by many countries around the world at the national level to support the management and protection of protected areas.
SMART helps standardise data collection, analysis, and reporting on the status of biodiversity and natural resource management in the protected area system.
These data will greatly help the process of developing regulations and making appropriate decisions for more effective management and conservation.
In Xuan Lien Nature Reserve, the central province of Thanh Hoa, over the years, SMART has been officially deployed in patrol work to protect forests and biodiversity.
According to Director Pham Anh Tam, management at Xuan Lien Nature Reserve has been significantly improved since SMART was applied. SMART has helped the managers and staff to evaluate the patrol effectiveness of each ranger more transparent and objective.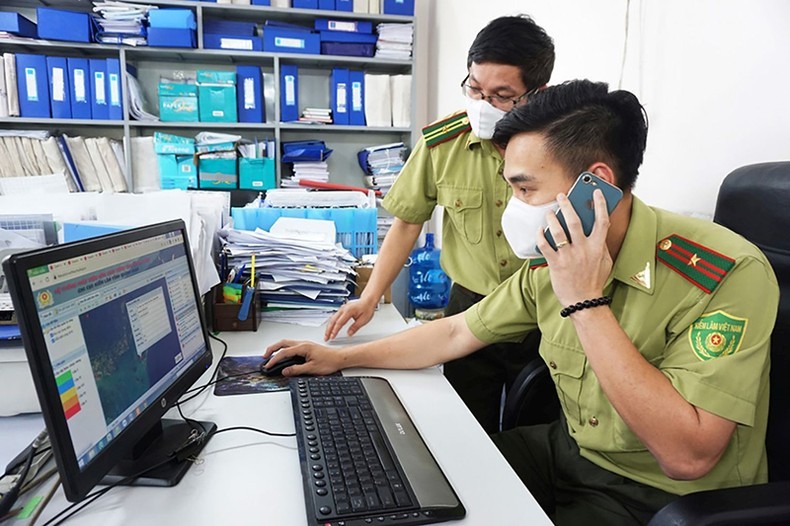 Staff of Quang Ninh Provincial Forest Protection Department use satellite connection software in forest management and protection. (Photo by NGUYEN THANH)
As a result, forest protection and management has become highly effective, and forest biodiversity has also been monitored more meticulously and accurately.
On a total area of 24,728ha, of which nearly 4,000ha is primeval forest, Xuan Lien Nature Reserve is home to many rare plant species, thousand-year-old ancient trees, and a number of unique and iconic animal species, such as the northern white-cheeked gibbon, gray langur, and Roosevelt gill. These are genetic resources that need to be conserved and developed.
In order to improve the efficiency of forest management and protection, in recent years, Ngoc Linh Nature Reserve, the Central Highlands province of Kon Tum has also promoted the application of information technology in the management and protection of forests with the following components: specialised software and GPS navigation system, contributing to effective performance in the task of managing and protecting more than 37,550ha of assigned forests and forestry land.
The unit has applied Locus map software to replace traditional paper maps. Traditional paper maps when patrolling forces must carry a locator, compass, when it is necessary to determine the position coordinates, it takes a long time, low accuracy because of errors when measuring. With the development of smartphones, many free applications in using maps are built.
With the support and training of the German Development Cooperation Agency (GIZ), the World Wide Fund for Nature (WWF) in Vietnam, Ngoc Linh Nature Reserve has been deploying SMART applications since October 2020.
After more than two years of applying SMART Mobile on smartphone devices, the results of patrolling and checking have been updated on the field through management software more quickly and accurately.
Wide application
Implementing the digital transformation plan, in 2023, the Ministry of Agriculture and Rural Development set a target to promote a substantive, efficient and economical digital transformation, in association with calling for the support, advice, and companionship of the Government, businesses, and professional information technology associations, creating a strong change from awareness to action on digital transformation of agencies, units and organisations and individuals participating in the agricultural value chain from central to local levels.
The Ministry of Agriculture and Rural Development will complete and promulgate a list of databases under its management and a specific plan and roadmap for building and deploying databases in the list.
The ministry has also encouraged activities to apply digital technologies such as sensors, IoT, artificial intelligence, and data mining to monitor land parameters, forest resources, weather, etc. to increase productivity and improve the quality of agricultural products.
According to the Department of Forestry, the establishment of a national database through a unified data management and patrol tool (SMART) used across the country on the management, protection, and conservation of biodiversity special-use and protected forests has served the management and inspection of management agencies from central to grassroots levels, contributing to the conservation and sustainable development of national biodiversity resources.
Thanks to the effective contribution of the widespread application of digital technology, in recent years, the state management of forests, including the system of special-use and protected forests, has been increasingly improved.
The forest has been stabilised and developed in both area and quality, thereby promoting its role in the conservation of typical forest ecosystems, endemic species, and endangered and rare species; preserve historical, cultural, and religious relics as well as scenic spots, and at the same time ensure the protection function.
The system of special-use and protected forests has been protected, preserving almost intact important natural forest ecosystems, maintaining the protection capacity, as well as conserving biodiversity and rare and precious animals reappeared or discovered with a wide distribution area; at the same time, creating many values of providing environmental services and protecting the environment.
However, this is the immediate stage, in the long term, it is necessary to continue to invest in projects to develop, protect and restore the special-use forest system, to protect and strengthen the capacity of the staff and officials of forest management boards.
It is also necessary to improve several mechanisms and policies to improve the economic and technical norms, especially digital technology, for the activities of forest management boards across the country.