Waking up early in the morning, the group of six tourists led by Vo Van Tuan (residing in Duc Trong District, Lam Dong Province) set off from Ca Mau City towards the last landmark of the country. After visiting and taking photos with the landmark, the Ca Mau Cape National Tourist Area guides introduced them to the experiences of exploring the mangroves here. The delegation rented a small boat to go into the mangrove forest. The boat took the tourists through the forest, under the canopy of mangrove trees and cay mam (avicennia marina) with special roots protruding above the water. After about 30 minutes, the group stopped at the alluvial ground for them to observe migratory birds and the vast forest in the distance. "I have travelled to many places, but this is the first time I have discovered such a rich mangrove ecosystem with many diverse species of animals and plants. The climate here is also very fresh, the landscape is wild, bringing a very relaxed feeling", said Tuan.
The delegation also visited the community-based tourist areas (homestays) located in the mangrove forest. They had lunch with typical seafood such as thoi loi (periophthalmodon schlosseri) fish, ca loc (snakehead fish), and 'ba khia' (three-striped salted crab), as well as special dishes such as bee sauce and bee pupa. Many people have chosen to stay overnight in the hostels to learn about the life of people in the Cape land. Nguyen Van Dua, an experienced boat driver, said the locals depend on nature for farming and fishing activities. Since Ca Mau Cape Tourist Area was approved by the Prime Minister to become a National Tourist Area in 2018, tourist routes through the forest of Ca Mau Cape National Park have been opened for travellers to visit the mangrove forest and mudflats and explore Gieng Troi, a primeval forest. The system of interlaced rivers, along with immense mangrove forests, has really become a rare advantage for tourism exploitation. The local people have opened homestays to welcome guests; therefore their lives have also changed.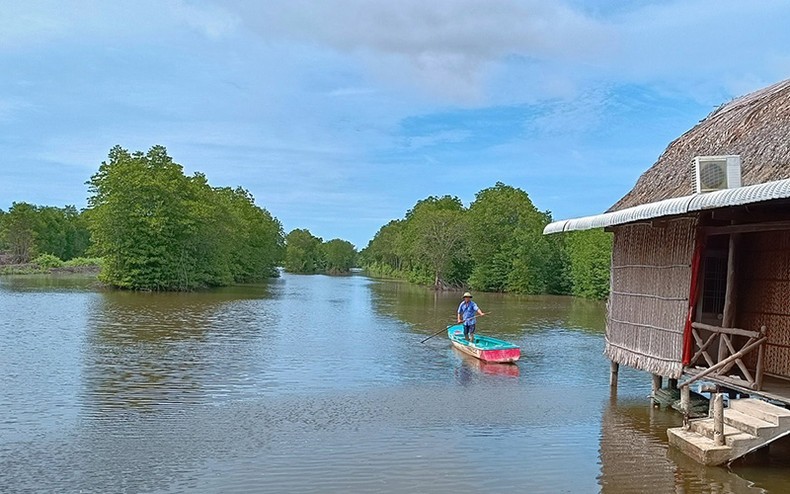 A corner of the mangrove forest in Ca Mau Cape. (Photo: Lan Anh)
A few years ago, Quach Van Ngai's family still made a living thanks to shrimp ponds. Being encouraged by the local authorities to invest in tourism, Ngai took advantage of his family's land, bought furniture, and opened a small restaurant to serve tourists. Their life has gradually improved thanks to the increasing number of guests, most of whom were interested in the rustic dishes cooked by his wife. After that, Ngai decided to build more rooms for guests to stay overnight. "Visitors like to stay in rooms surrounded by many species of trees and quiet river space very much. In addition, we have combined with other households so that guests can learn and explore the nightlife of the local people and join many activities, such as catching ba khia", said Ngai.
According to the Management Board of Ca Mau Cap National Tourist Area, Ca Mau mangrove forest has a total area of more than 63,000 hectares, stretching from the Tieu Dua coastal route (in Khanh Tien Commune, U Minh District) to the coastal districts of Tran Van Thoi, Phu Tan, Dam Doi, Nam Can and Ngoc Hien. Most of the mangrove forest area belongs to the Ca Mau Cape World Biosphere Reserve, covering a large area and possessing endemic tree species such as mangroves, avicennia marina, and coconut, creating a favourable environment for animal populations to live and grow. The fauna is rich in varieties and species such as sea crab, tiger shrimp, white shrimp, blood cockle, pineapple fish, goby fish and thoi loi (periophthalmodon schlosseri) fish as well as many reptile species, such as ky da (iguanas), cobras, and pythons, along with spawning fish and hundreds of species of birds. These special things have attracted many tourists to experience the tours through the mangrove forest. During the holidays, thousands of visitors have chosen this tourism form. The forest tour in the Cape Land has been invested to develop community ecotourism and improve the quality of tourism products to meet the needs of travellers and to raise community awareness in forest and biodiversity protection as well as conservation of existing precious resources associated with local cultural identities towards sustainable tourism development.
Although this tourism form in the Cape Land has been welcomed and appreciated by many tourists, representatives of tour operators said that there are still many issues that need to be focused further by the local government. So far, enterprises and business households have not been creative in building tours. Experience activities are also fragmented and small. The linkage between mangrove eco-tourism in Ca Mau Province and national tourism, especially in the Mekong Delta region, has been still limited. Hoang Linh, a tourist from Mong Cai City (Quang Ninh) shared: "Coming to Ca Mau Cape, I initially only planned to visit and take photos at the landmark, but I did not know there was a tour to the mangrove forest here. The information and promotion of tours have been limited so that many people do not know that this type of tourism is still available in the Cape Land. In addition, there are few activities to explore. Most of the tourist areas have been self-exploited by households so the professionalism is not high. I hope that when I come back to this land next time, the services here will be improved."
Despite unique natural resources, the form of ecotourism in the mangrove forest of Ca Mau Cape can be only developed strongly and sustainably when the authorities at all levels, people and tourism businesses cooperate and take full advantage of the benefits to open high quality discovery tourism services and effectively promote tourism products to domestic and foreign tourists.