The People's Committee of Da Lat city and the Department of Culture, Sports and Tourism of Lam Dong province held a press brief on November 10 announcing the schedule of the festival.
Themed "Da Lat - The City of Four Seasons of Flowers", the festival will begin on November 11, while the opening ceremony will be held on December 18.
Director of the Department of Culture, Sports and Tourism of Lam Dong province Nguyen Viet Van, said that the province wishes the Da Lat Flower Festival becomes a combined cultural and artistic activity, to stimulate tourism and promote local agricultural products. This year's festival is longer than the previous years, as more events will take place not only in Da Lat but also in Bao Loc city, Lac Duong district and Duc Trong district.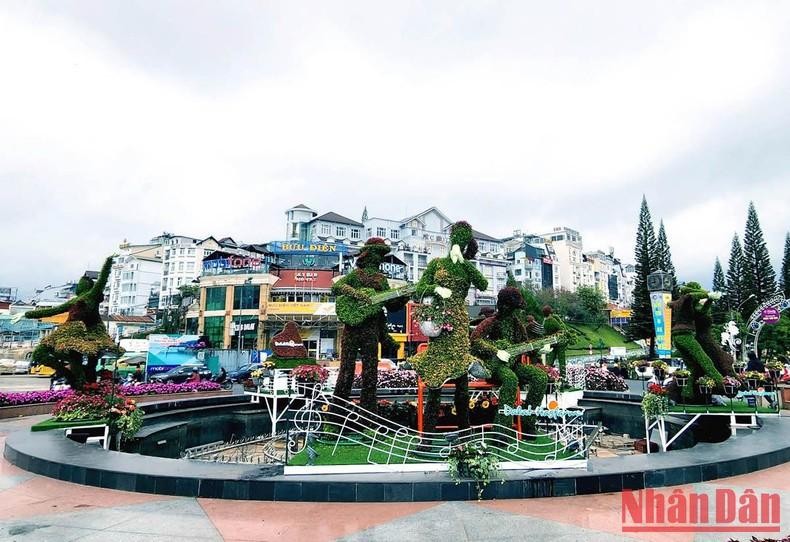 Flowers showcased in the downtown of Da Lat city.
Da Lat Flower Festival 2022 will feature nine main programmes, such as Flower space, a special art programme to announce the 9th Da Lat Flower Festival 2022, a fashion show, an art programme to welcome the New Year 2023, an exhibition space on the Central Highlands and others.
The opening ceremony of the festival will use modern technology to recreate the space of the Lang Biang plateau, with indigenous cultural features.
The Da Lat Flower Festival has become an important cultural and tourist festival of Da Lat city and Lam Dong province. This is an annual event honouring flowers and flower growers throughout the province and is also an opportunity to promote investment, trade and tourism in the locality.