Sierra Leone President pays official visit to Vietnam
President Julius Maada Bio, his wife and a high-raking delegation of Sierra Leone left Ho Chi Minh City paid an official visit to Vietnam from March 15 to 20 at the invitation of President Nguyen Xuan Phuc.
During his stay, President Julius Maada Bio and President Nguyen Xuan Phuc held talks on March 15 and witnessed the signing of three bilateral cooperation documents in sectors in diplomacy, agriculture and fisheries between ministries and sectors.
President Julius Maada Bio also met with Prime Minister Pham Minh Chinh and National Assembly Chairman Vuong Dinh Hue.
He then toured FPT University, witnessed the signing of a cooperation agreement between the Sierra Leone Presidential Office and the FPT Group, attended a Vietnam-Sierra Leone business forum and made a tour of the Vietnam Academy of Agricultural Sciences (VAAS). He and his entourage also made a working visit to southern An Giang province, the Mekong Delta city of Can Tho and Ho Chi Minh City.
PM witnesses work starts on third Vietnam - Singapore Industrial Park in Binh Duong
Prime Minister Pham Minh Chinh addresses the ground-breaking ceremony of the VSIP No. 3 in Binh Duong province on March 19. (Photo: VNA)
Prime Minister Pham Minh Chinh attended the ground-breaking ceremony of the Vietnam - Singapore Industrial Park (VSIP) No. 3 in southern Binh Duong province on March 19.
This is the third VSIP in Binh Duong, a major industrial hub of Vietnam, and the 11th in the country. Invested with over 6.4 trillion VND (280 million USD) in total, it will cover 1,000ha in Hoi Nghia ward of Tan Uyen town and Tan Lap commune of Bac Tan Uyen district.
The park will be equipped with uniform, green, and smart infrastructure to attract investment to the sectors of electricity, electronics, transport vehicle production and assembly, mechanics, support industry, textile - garment, food, beverage, and logistics services.
Government approves draft resolution on environmental protection tax on petrol
The Government has passed a draft resolution on the environmental protection tax rates on gasoline, oil and lubricants, which will be submitted to the the National Assembly Standing Committee for approval on March 14.
Under the draft, the Ministry of Finance proposes to cut the tax rates for gasoline by 2,000 VND (0.088 USD) per litre; diesel, fuel oil, and lubricant by 1,000 VND per litre; grease by 1,000 VND per kg; and kerosene by 700 VND per litre.
The ministry recommended that the resolution should take effect from April 1 to December 31, 2022. With the adjustments, the estimated amount of environmental tax on the products will reduce by over 29 trillion VND (1.26 million USD) per year, leading to a fall in the State budget collection.
Vietnam assumes chair of ASEAN education channel
Vietnam assumes chair of ASEAN education for 2022 – 2023 (Photo: VNA)
The Vietnamese Ministry of Education and Training took over the chairmanship of ASEAN Education for 2022 – 2023 from the Philippines at a ceremony on March 16.
In his speech, Minister of Education and Training Nguyen Kim Son congratulated the Philippines's Department of Education for its successes in its role in 2020-2021 despite challenges caused by the COVID-19 pandemic.
Vietnam hopes to receive support from ASEAN member countries and partners during its presidency, Son said, noting that education should be based on the principles of collaboration and solidarity.
ASEAN Secretary General Lim Jock Hoi expressed his belief that Vietnam will successfully perform its role to build a more resilient education system in the region.
More Vietnamese from Ukraine arrive home on repatriation flights
A Vietnam Airlines flight from Warsaw arrived at Noi Bai International Airport in Hanoi on March 19, bringing home an additional 259 Vietnamese citizens evacuating from Ukraine.
This is the third free-of-charge flight from Poland to repatriate Vietnamese citizens leaving Ukraine. The first two, on March 9 and 12, carried nearly 600 people, many of whom were children, women, and elderly people.
As many of the Vietnamese evacuees wish to return to the homeland, the Vietnamese State's efforts to conduct free repatriation flights show the Party and State's top priority to the citizen protection with the ultimate goal of ensuring safety for the citizens' lives and assets.
Vietnamese beauty among top 13 of Miss World 2021
Do Thi Ha from Vietnam was the first contestant qualifying for top 13 of the Miss World 2021 Grand Final. (Photo: tienphong.vn)
Do Thi Ha from Vietnam was the first contestant qualifying for top 13 of the Miss World 2021 Grand Final which was held in Puerto Rico on March 17 morning (Vietnam time).
She won the Digital Media Challenge with the largest amount of votes from viewers.
Ha, 20, was born in Thanh Hoa province and is a student of the Hanoi National Economics University. She was crowned Miss Vietnam in 2020.
The Grand Final of the 70th Miss World saw the participation of 40 contestants. Karolina Bielawska from Poland, born in 1999, seized the coveted Miss World title this year.
Vietnam fully reopens borders to tourists
Vietnam has officially reopened international tourism on March 15.
Accordingly, international tourists to Vietnam are required to meet medical conditions as regulated by the Ministry of Health. At the border gate, if tourists have symptoms of SARS-CoV-2 infection, they should immediately notify the health authorities to take medical measures as prescribed. Another requirement is that travelers must have medical or travel insurance that covers COVID-19 treatment with a minimum liability of 10,000 USD.
Also on the morning of March 15, the Vietnamese Government issued a resolution on visa waivers for citizens from 13 countries namely Germany, France, Italy, Spain, the UK, Russia, Japan, the Republic of Korea, Denmark, Sweden, Norway, Finland, and Belarus.
Citizens of the above-mentioned countries will enjoy 15 days of visa-free travel in Vietnam beginning from their date of entry regardless of the kind of passport and entry purpose, on the basis of satisfying all conditions as prescribed by Vietnamese law.
Official song for SEA Games 31 unveiled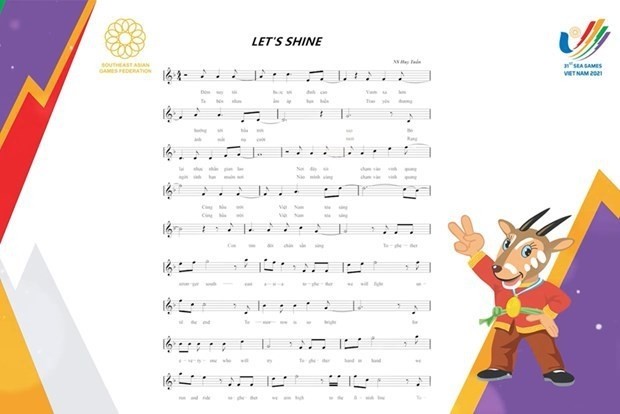 The lyric sheet of the song (Photo: VNA)
The official song for the upcoming 31st Southeast Asian Games (SEA Games 31) was revealed during a ceremony held in Hanoi on March 20 which honoured outstanding athletes and coaches of the country last year.
The song, composed by renown composer Huy Tuan, is titled 'Hay toa sang' (Let's shine),
It expresses pride in the culture and people of Vietnam, and highlights sportsmanship as well as efforts made to achieve the best results, with lyrics in Vietnamese language and chorus in English.
The song also sends a message of development, solidarity and friendship between Vietnam and international friends.