The rose valley boasts an area of up to 50,000 square metres and consists of more than 300,000 roses crossbred from over 150 varieties in Sa Pa, Vietnam, and around the world.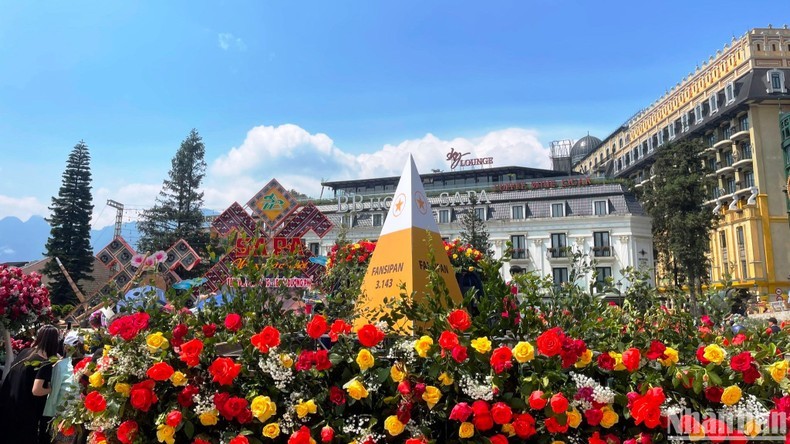 The roses around the symbol of Fansipan Peak are a favourite check-in point for tourists. (Photo: Quoc Hong)
The festival features a rose parade consisting of 34 flower carts fully decorated with roses grown in the tourist area and controlled by a cast of 750 craftspeople as well as local people from Sa Pa Town and Tam Duong District dressed in traditional costumes of ethnic groups.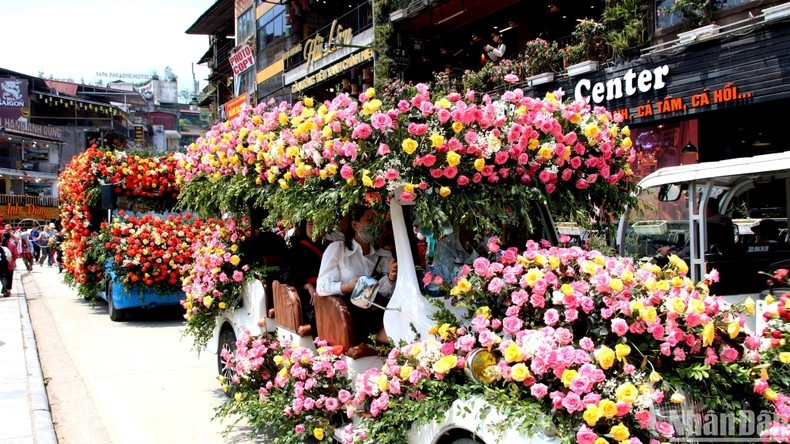 Cars with roses parade on the streets of Sapa. (Photo: Quoc Hong)
The parade runs from 9.30 am to 11 am and 2 pm to 5 pm between April 27 and 29 and will travel along the streets of the town centre. The floats, actors, and actresses participating in the procession will stop at five points during their journey, enabling visitors to snap pictures and watch the artists performing beside the floats.
Most notably, a flower procession to Buddha at the peak of Fansipan, the highest mountain in Indochina, will take place at the opening ceremony of the festival on April 27.
Furthermore, fashion shows and art performances get underway between 8:30 am and 10 am, as well as 1.30 pm to 4 pm, from April 27 to May 7. Artists will perform Xoe Thai dancing, which is recognised by UNESCO as an intangible cultural heritage of humanity.
The traditional wedding ceremony of the Red Dao ethnic minority group will be re-enacted during the festival.
It is expected that Sapa will welcome about 200,000 visitors during the coming holiday.