Tran Thien Quang, President of the VSAK in the 8th tenure, said the association has successfully organised many events such as the 8th annual Conference of Vietnamese Young Scientists (ACVYS) 2022 and a programme to celebrate the Lunar New Year (Tet) Festival 2023.
These events have stimulated creative thinking, and offered new opportunities for students, he said, adding that they attracted not only those in the RoK but also Vietnamese students and young intellectuals around the world.
He went on to say that the VSAK has also mobilised hundreds of scholarships for students and postgraduates, helping them to have more support during the COVID-19 pandemic.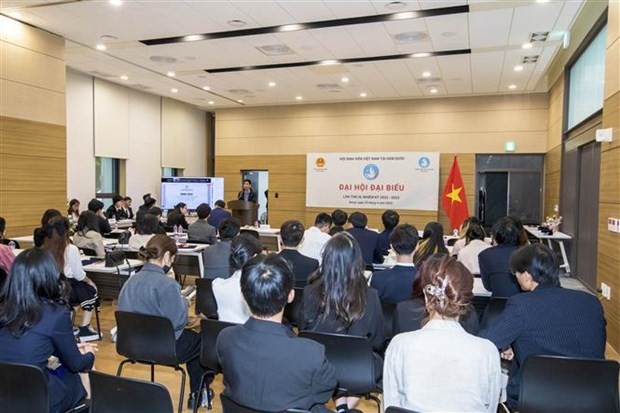 An overview of the event.(Photo: VNA)
As part of activities to mark the 30th founding anniversary of Vietnam-RoK diplomatic relations (December 22, 1992-2022), the VSAK, in coordination with the representative office of the Ministry of Science and Technology in the RoK, organised a seminar to share research directions with Vietnamese scientists and intellectuals, thereby setting forth solutions to promote collaboration in the field of science, technology and innovation in the new period, contributing to the country's construction and development, Quang said.
An executive board for the 2023-2025 term was elected at the congress, consisting of 23 members representing more than 70,000 Vietnamese students and postgraduates across the RoK.
Addressing the event, Vietnamese Ambassador to the RoK Nguyen Vu Tung urged the VSAK's new executive board to maintain a close relationship with the embassy to promptly address emerging problems effectively, helping to make the association a model for Vietnamese student associations in other countries to follow.