Talking to representatives of the Vietnamese community in China at a gathering in Beijing, Vietnamese Ambassador Pham Sao Mai highlighted the homeland's socio-economic and diplomatic achievements as well as new strides in relations between the two countries last year.
He affirmed that the Party and State of Vietnam view overseas Vietnamese as an integral part of the nation.
The embassy pays special attention to overseas Vietnamese affairs, assists expatriate citizens, works to protect their rights and legitimate interests, and coordinates with Chinese authorities to help them settle down and integrate into local society, he noted.
Mai expressed his hope that the Vietnamese community in China will continue to uphold solidarity, maintain national identity, and contribute to the homeland and friendship between the two countries.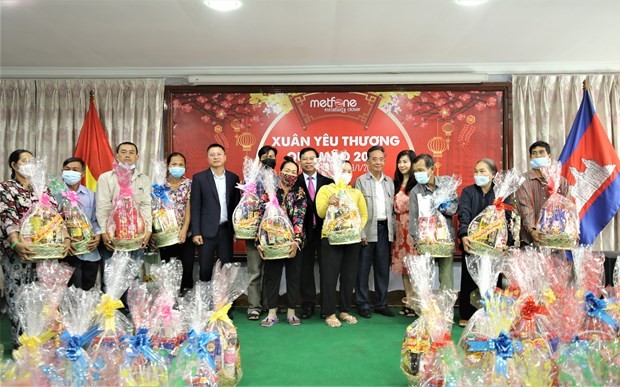 Disadvantaged people of Vietnamese origin in Phnom Penh receive Tet gifts on January 9. (Photo: VNA)
The same day, the Khmer - Vietnam Association in Cambodia presented Tet gifts donated by telecoms company Metfone to 200 disadvantaged Vietnamese-origin families in Phnom Penh.
Sim Chy, Chairman of the association, thanked the Vietnamese Embassy in Cambodia and Metfone, invested by Vietnam's telecoms group Viettel, for their assistance and also pointed out difficulties facing Vietnamese-origin people.
Ambassador Nguyen Huy Tang said the embassy will work with relevant Cambodian sides to address those issues as soon as possible.
He added the Party, State, enterprises, and social organisations of Vietnam have always created favourable conditions for people of Vietnamese origin in Cambodia, but the community's own efforts to move forward are also of great importance.
The ambassador offered Tet greetings to the community while thanking Metfone for its support for the disadvantaged.
On this occasion, Metfone announced nearly 1,000 Tet gift packages worth 20,700 USD in total to disadvantaged families of Vietnamese origin in eight provincial-level localities of Cambodia.
Tet is the biggest traditional festival for Vietnamese people. The coming Lunar New Year is the Year of the Cat, which will start on January 22.