The opinion was presented by both Vietnamese and French enterprises, at a trade conference held in Paris on October 14.
Speaking at the conference, Vietnamese Ambassador to France DinhToan Thang, said that Vietnam has achieved many impressive developments over the past 30 years, becoming the third economy in Southeast Asia for 2022.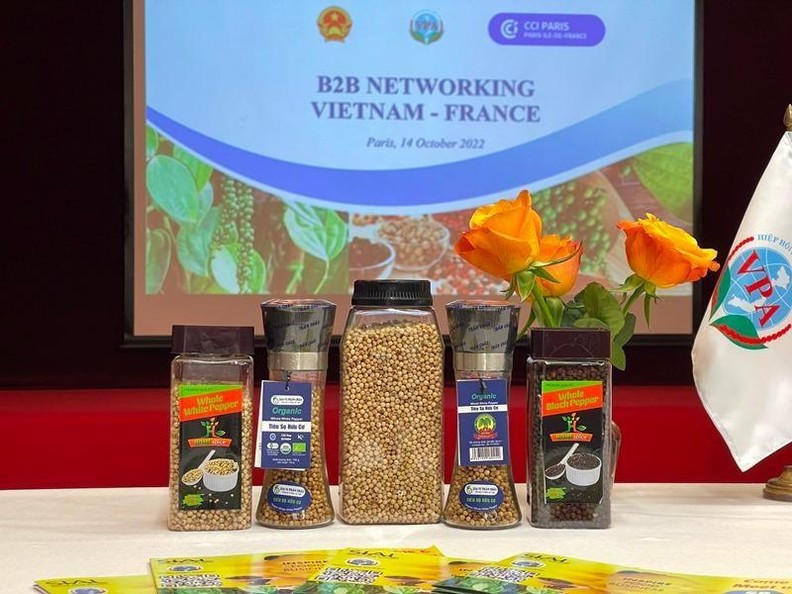 Vietnamese pepper products are showcased at the conference.
Vietnam ranks second in the world in terms of GDP, with a stable annual growth rate of over 7%, he said, adding that with 15 Free Trade Agreements coming into effect in early 2022, Vietnam has become part of a vast economic network of international partners.
According to Ambassador DinhToan Thang, France is a large and potential market, with increasing consumer demand for spices and pepper products and Vietnamese pepper is soon expected to appear on the booths of distribution systems in this fastidious market.
Chairwoman of the Vietnam Pepper Association Hoang Thi Lien said that France is Vietnam's fourth largest important pepper market after Germany, the UK and the Netherlands. With strict standards, France will act as a "filter", opening up many opportunities to access and do business in other major markets for Vietnamese pepper, she noted.
Through French importers and distributors, Vietnamese pepper will have the opportunity to strengthen its brand and increase its presence in the supermarket system, as well as in the daily meals of French consumers, she added.
Mr. Gregoire Courme, a representative of Aromatum spices and oil company, said that this forum is a good opportunity for Aromatum to learn about Vietnam's pepper products that are increasingly attractive in the market.