The event was attended by the Secretary of the Party Central Committee (PCC) and Head of the PCC's Commission for Communications and Education Nguyen Trong Nghia, President of the VFF Central Committee Do Van Chien, and Deputy Prime Minister Vu Duc Dam, among others.
The 15th Press Awards for the Cause of Great National Unity, 2021-2022, received 2,090 valid entries in five categories, including printed and e-newspapers, radio, television, and press photos, from over 100 press agencies.
A total of 80 prizes were presented to outstanding entries at the ceremony including five A, 14 B, 29 C and 32 consolation prizes.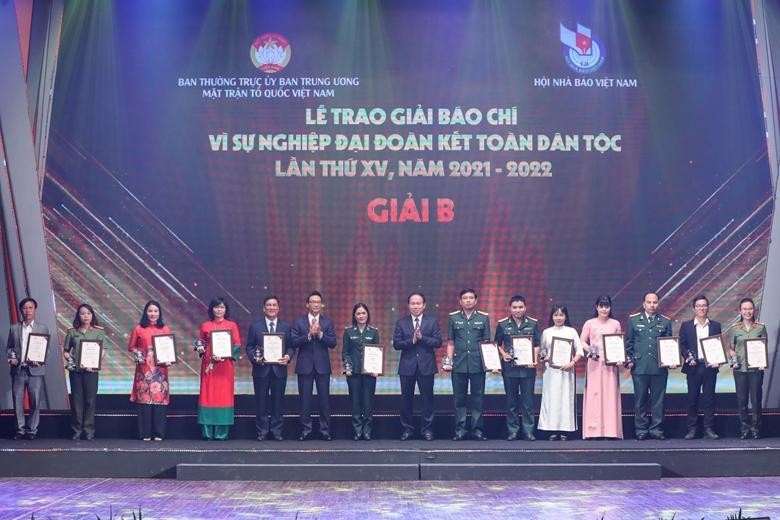 B prize winners are honoured. (Photo: dangcongsan.vn)
The winning works were impressive, thanks to valuable findings and ideas that conveyed positive messages to the society and community. They highlighted the reality and issues featuring breath of life, such as prevention and control of the COVID-19 pandemic, the protection of the sovereignty of sea and islands, borders and territory, innovation, socio-economic development, defence-security, creative ways to bring the Party's Resolutions to life and typical examples in the community.
They have contributed to promoting solidarity and creativity among the people for the common goal of building and firmly consolidating the great national unity bloc.
As one of the most important and prestigious national press awards, the Press Awards for the Cause of Great National Unity has always received companionship and positive response from press agencies and journalists throughout the country.