Turning food into art
'Viet Nam Mien Ngon' (Vietnam Delicious), Rin's first food illustration artbook was published by Thai Ha Books in 2017. The Vietnamese-English bilingual book has impressed readers with bountiful culinary culture and an appetising look at Vietnamese dishes presented in watercolour paintings by Le Rin.
Introducing around 100 dishes from across Vietnam, 'Viet Nam Mien Ngon' is considered a handbook on Vietnamese cuisine that anyone would want to have in their backpack on their trip to the Southeast Asian country. To date, the book has been reprinted four times with 7,500 copies.
Le Rin first came up with the idea of painting food after his trip to Vietnam's central region, during which he had a chance to sample many delicious local dishes. Initially, he did it just for fun, but the more he painted, the more he liked this work. Le Rin then gathered his food paintings and sent them to Thai Ha Books and 'Viet Nam Mien Ngon' was born.
It came as a surprise to him that the book received much interest from readers, thus motivating him to follow his career as a food illustrator, a field which is still quite new in Vietnam.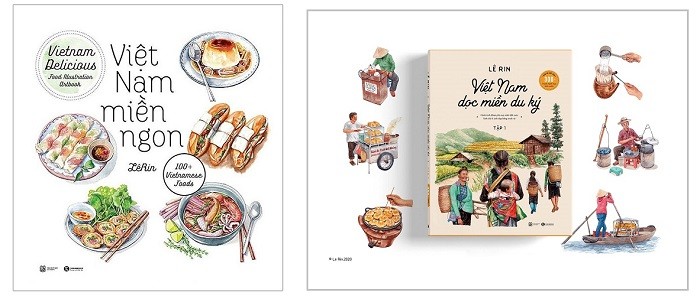 From left: The covers of 'Viet Nam Mien Ngon' and 'Viet Nam Doc Mien Du Ki', two food illustration artbooks by Le Rin.
Following the success of 'Viet Nam Mien Ngon', Le Rin got more inspiration and ideas of publishing a travel photo book on Vietnam. That was how the first volume of 'Viet Nam Doc Mien Du Ky' (Travel Story around Vietnam) was released. It was the result of the many trips Le Rin made across the country and the months he spent to draw hundreds of paintings, with each taking from three to four hours. He also put a lot of effort into researching information and references for the book's content.
The 1989-born artist shared that although 'Viet Nam Mien Ngon' marked the start of his career as a food illustrator, 'Viet Nam Doc Mien Du Ky' gained more favour from him as it shows his improvements in writing and literary skills. The latter also required much time to finish, thus it always helps him to stay excited and motivated during the process.
In the first volume, Le Rin illustrated tourist destinations in the provinces of An Giang, Can Tho and Ha Giang, Hoi An City (Quang Nam Province), Ly Son Island (Quang Ngai Province), his hometown in Ninh Thuan, Phu Yen, and Sa Pa Town (Lao Cai Province). The second volume is scheduled to hit bookshelves later this year.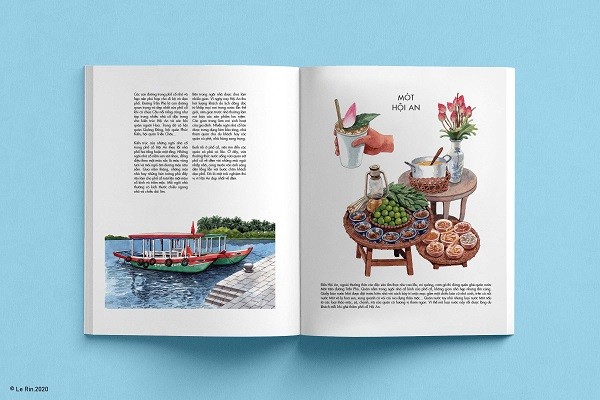 A page of 'Viet Nam Doc Mien Du Ki'.
Career crossroads
Le Rin revealed his natural talent for painting in his childhood. Growing up, he had the opportunity to nurture his passion for painting more methodically by studying industrial design at the Faculty of Design of Saigon Technology University.
He used to work as an assistant to fashion designer Cong Tri; however, travel and culinary culture have opened his soul, helping him recognise that delicious dishes not only cheer him up for a moment, but cuisine is the best suggestion for the career path he should follow. The success of 'Viet Nam Mien Ngon' and 'Viet Nam Doc Mien Du Ki' is strong evidence that he has made a sound decision at the career crossroads.
While foreign painters often paint food using digital tools, which can make the paintings very beautiful and vivid, Le Rin feels more comfortable working with watercolours, which help him capture the soul of Vietnamese cuisine.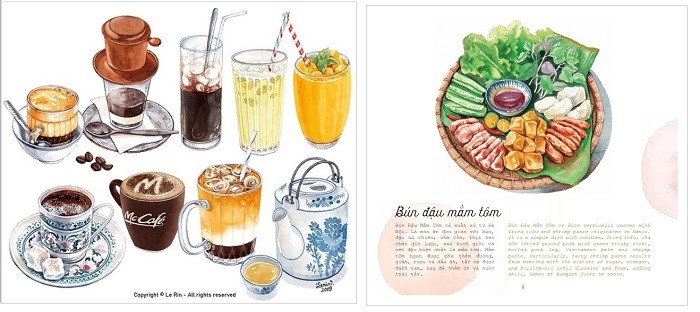 Food paintings by Le Rin
His talent has also brought Le Rin the opportunity to collaborate with famous brands such as: Grab, Vinamilk, McDonald's, Vietnam Airlines, Glico Asia Pacific (Singapore), Domino's Pizza, and Siobak King (Indonesia). He has been also selected for product promotion campaigns by Daniel Wellington and Samsung.
In February 2020, Le Rin hosted his first solo exhibition entitled "Your Food My Challenge 2019", which displayed his illustrations of mouth-watering dishes from many countries in the world as challenged by his Instagram followers.
In Le Rin's drawings, one can see the that he always respects traditional culture. The stories about Vietnamese dishes, culture, and people told through his brilliant watercolour paintings will fuel love among viewers for the land and cuisine of the country.
Illustrations of mouth-watering dishes by Le Rin at the "Your Food My Challenge 2019" exhibition.