These are activities to celebrate the 110th anniversary of Kon Tum Province's establishment (February 9, 1913 - 2023) and announced that Kon Tum City has been acknowledged as a grade II urban area.
Within the programme, the government and representatives of Kon Tum ethnic groups together reviewed the history of the city's formation and development.
Speaking at the event, Nguyen Thanh Man, Chairman of the People's Committee of Kon Tum City, affirmed that, from a small village of Bahnar people, Kon Tum Province and especially Kon Tum City have been increasingly developed, and now the city has become a grade II urban area directly under Kon Tum Province.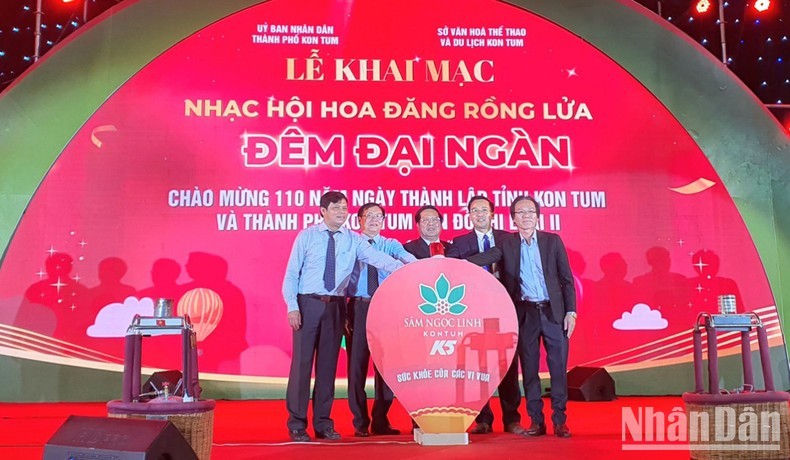 Delegates press the button to open the programme.

The lives of people in Kon Tum City are constantly being improved. In 2022, the city's total production value reached 50 trillion VND; the economic growth rate reached 11.95% while per capita income reached over 58 million VND; regimes and policies to ensure social security and welfare were given due attention, with full, prompt and proper implementation; and poverty reduction tasks achieved and exceeded the set targets, ensuring national defence and security.
Right after the solemn opening ceremony, the officials and people of Kon Tum ethnic groups together enjoyed the lantern festival and music programme with the participation of singers such as My Tam, Tung Duong, Hoang Thuy Linh.