Quang Binh residents are coping with their second bout of flooding in just fifteen days. According to initial statistics, floods inundated 1,020 houses in Quang Trach district, 1,888 in Tuyen Hoa district, 1,135 in Ba Don and hundreds of others in Minh Hoa district.
There has been widespread disruption to travel across the province. In particular, the section of the Ho Chi Minh Road running through Minh Hoa district's Thuong Hoa commune and Bo Trach district's Phuc Trach commune, and the section of the National Highway 15A running through Tuyen Hoa district have been seriously inundated, rendering them impassable.
Many inter-commune and inter-village routes throughout the province have also been cut by floodwaters.
At 5:30am on November 1, a tornado swept through Le Thuy district's Mai Thuy and Phu Thuy communes, leaving one wounded and 45 houses unroofed, fifteen of which were badly damaged, and displacing a lot of trees and crops.
At 6am the same morning, a fishing boat coded QB98750 TS with six sailors on board overturned on the Gianh River. Given word of the incident, the Quang Binh High Command of Border Guards has directed a ship from its Flotilla No. 2 to approach the boat for rescue.
The provincial People's Committee has sent two working delegations to the seriously flooded locales to direct flood response efforts. Quang Binh's armed forces have also deployed officers, soldiers and dozens of vehicles to flood-prone areas for rescue and support work in case of emergencies.
The same kind of flooding is taking place in the provinces of Quang Tri and Ha Tinh, with thousands of houses inundated, hundreds of hectares of crops destroyed, many inter-commune and inter-village routes disrupted and hundreds of households evacuated from flood-hit areas.
The Quang Tri authorities organised delegations to the flooded locales to ask after and support local residents in overcoming difficulties and losses and stabilising their lives soon.
On the evening of October 31, the Ha Tinh province People's Committee summoned a sudden meeting to disseminate instructions on adaptation to the flooding and regulating reservoirs across the province. Provincial leaders personally visited flood-hit locales on November 1 to direct flood response efforts.
Roads to Tuyen Hoa district in Quang Binh have been disrupted.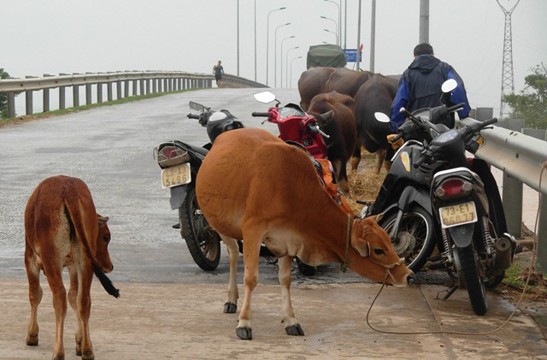 Residents in Ba Don, Quang Binh bring vehicles and cattle onto Quang Hai Bridge to avoid floods.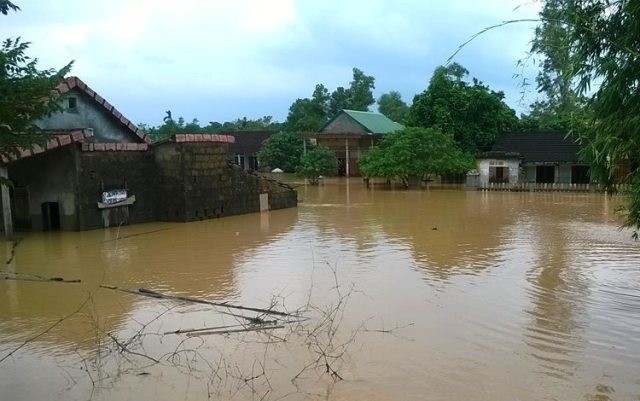 Floods submerge a lot of houses in Cam Lo district, Quang Tri.