The event was attended by Israeli Ambassador to Vietnam Yaron Mayer and leaders of the Lao Cai provincial Department of Foreign Affairs.
Under the programme, 22 young Israeli volunteers have joined 20 students of Thai Nguyen University's branch in Lao Cai province, to provide teaching for students at Sa Pa Town Elementary School, Le Van Tam Elementary and Secondary School, and Ban Khoang Elementary School.
More than 1,000 students from these schools will be provided with English lessons and other subjects such as geography, mathematics, and history in English at a basic level.
The volunteers will also host extracurricular activities such as singing, puzzles, and folk games, and join hands to renovate facilities at the schools.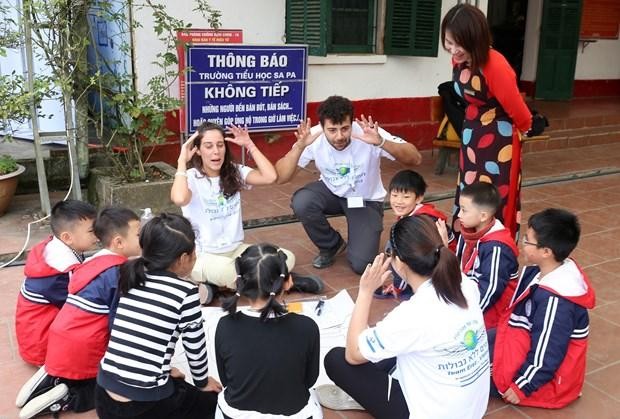 Israeli volunteers play games with local children in Lao Cai province (Photo: VNA)
According to Israeli Ambassador to Vietnam Yaron Mayer, the volunteers' activities are a good opportunity to promote the land and tourism potential of Vietnam to the Israeli people.
Previously, the Heroes for Life volunteer delegation went to the above schools of Lao Cai in 2019.
Heroes For Life is an Israeli non-governmental organisation founded in 2013, by officers of the Israel Defense Forces (IDF), gathering young Israeli people who have just completed military service.
It has attracted the participation of hundreds of members, who have implanted volunteer activities across countries in South America, Africa, and Asia.