This is the first high-ranking delegation of Vietnam to pay an official visit to the RoK since the two countries elevated their ties to a comprehensive strategic partnership in December 2022.
The trip aims to further intensify the countries' relations, political trust, and cooperation between the two parliaments in bilateral and multilateral aspects. The delegation will have discussions with the RoK to serve the amendment of some important laws such as the Land Law, the Law on Electronic Transactions, the Law on Protection of Consumer Rights, the Law on Price, the Law on Bidding, and the Law on Cooperatives, along with the e-parliament building.
Visiting the Vietnamese Embassy in the RoK on March 19, the NA delegation had a meeting with the embassy's staff and representatives of the Vietnamese community there.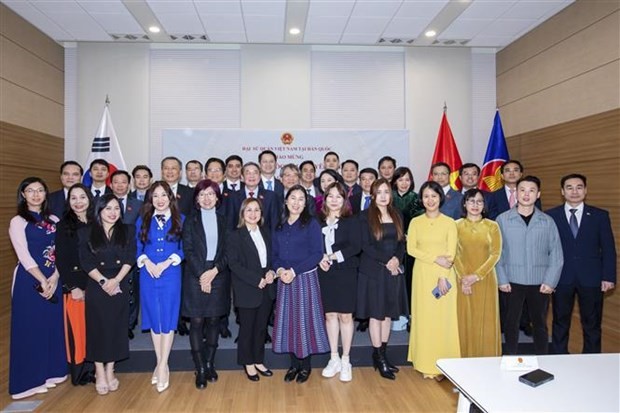 The NA delegation, staff of the Vietnamese Embassy, and representatives of the Vietnamese community pose for a photo at the meeting on March 19. (Photo: VNA)
NA Vice Chairman Hai affirmed that the Party and State always view overseas Vietnamese as an integral part and a resource of the country, as well as an important factor helping strengthen Vietnam's cooperation and friendship with others.
He stressed that the Vietnam - RoK relations are flourishing, especially since the establishment of the comprehensive strategic partnership.
The RoK remains one of the leading economic partners of Vietnam. People-to-people exchanges are vibrant with about 200,000 citizens of each country living, studying, and working in the other, including about 80,000 multicultural families.
Vietnamese people in the RoK form a young and promising community that has been growing stably, integrating well into, and contribute to the development of the local society, Hai said.
He expressed his hope that the community, especially intellectuals and students, will surmount difficulties and industriously learn knowledge as well as advanced management and production models of the RoK to contribute to the homeland's development.