Linh beat Akari Kurihara of Japan in the final match in Ho Chi Minh City, with 21-14, 11-21 and 21-19.
In the men's singles event, Huang Yu Kai of Taiwan (China) won the championship after defeating No.2 seed Takuma Obayashi of Japan. Meanwhile, the men's doubles championship went to Japanese players Kenya Mitsuhashi and Hiroki Okamura after they defeated the Indonesian rivals Hardianto Hardianto and Ade Yusuf Santoso.
Hsieh Pei Shan and Tseng Yu-Chi from Taiwan (China) won the women's doubles championship, defeating their compatriots Hung En-Tzu and Lin Yu-Pei.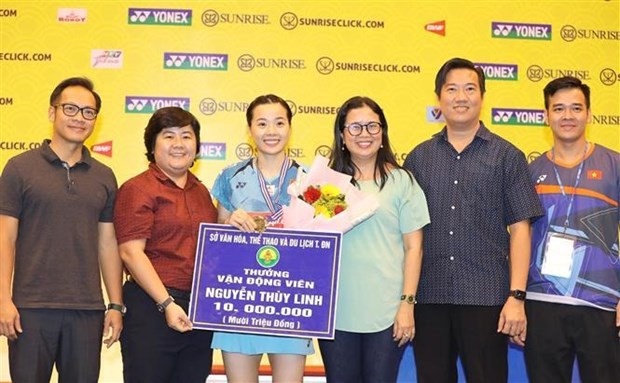 Nguyen Thuy Linh is with her coaches, family and friends. (Photo: VNA)
In the mixed doubles event, Hiroki Nishi and Akari Sato from Japan won over Ruttanapak Oupthong and Jhenicha Sudjaipraparat of Thailand to win the championship.
The Yonex – Sunrise Vietnam Open 2023 attracted more than 300 athletes from 23 countries and territories.
The tournament was a Badminton World Federation (BWF) Tour Super 100. It had a total purse of 100,000 USD, of which the men's singles and women's singles champions received 7,600 USD while the doubles champion received 7,900 USD.