Representatives showed their delight at the homeland's socio-economic achievements over the years, especially after the COVID-19 pandemic, and expressed their hope to make more contributions to the growth of the Vietnam-US relations.
They briefed the Government leader on activities to maintain and promote Vietnamese cultural values in the US, and proposed ideas to help Vietnam attract more high-quality human resources for national development, especially in science and technology. They said they hope for mechanisms to connect Vietnamese all over the world to join hands in developing the Fatherland.
For his part, PM Chinh reviewed the Vietnam-US relations, and the elevation of the ties to a comprehensive strategic partnership during US President Joe Biden's recent visit to Vietnam.
He said that trade between Vietnam and the US exceeded 123 billion USD in 2020, while bilateral cooperation in other fields has been fruitful.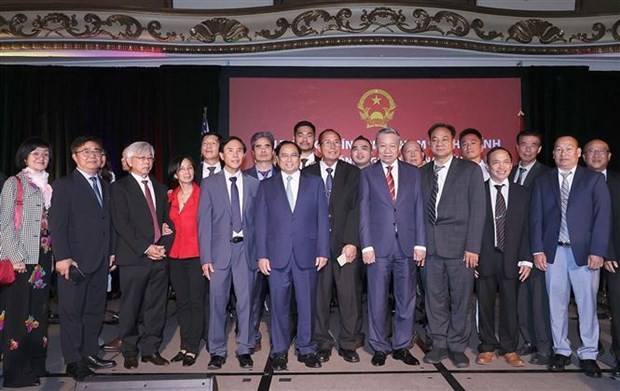 Prime Minister Pham Minh Chinh and representatives of the Vietnamese community in the US at the meeting (Photo: VNA)
Praising the role of the about 6-million-strong Vietnamese community in more than 130 countries and territories, including 600,000 experts and intellectuals, in the country's development, PM Chinh affirmed that the Party and State always pay great attention to the Vietnamese community abroad in general and in the US in particular, considering them an inseparable part of the nation and a resource of the country.
He expressed his hope that the Vietnamese community in the US will make more contributions to the growth of the Vietnam-US relations.
PM Chinh said that the country is showing a strong performance in post-pandemic socio-economic recovery and development, with improved people's living conditions improved; defence and security ensured, international relations and integrations strengthened; and role and position in the world arena enhanced.
The Government leader expressed his hope that Vietnamese businesses, intellectuals and scientists in the US will continue to accompany with the country's development with specific projects and activities.
Regarding the community's proposals, the PM pledged that he will ask ministries, sectors and relevant agencies to give suitable and timely response.