Established in October 2020, the Dong Nghi agricultural cooperative in Tam Hiep Commune, Chau Thanh District, has adopted many initiatives to integrate tourism development with agricultural activities.
The 2.5-hectare cooperative is divided into three areas, including a 2-hecatre area for growing grass, an area for raising goats, and an area which can accommodate around 500 tourists.
Visitors to Dong Nghi Cooperative can taste goat milk and join various activities such as feeding goats, walking with goats, and bottle-feeding baby goats. They can also paddle a boat on the river, cycle around the orchards, and enjoy delicious dishes including those made from goat milk.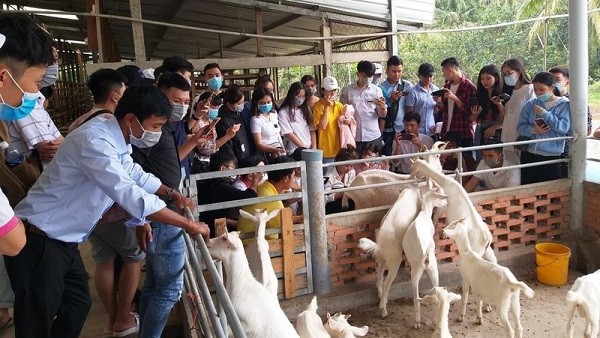 Tourists feed goats at Dong Nghi Cooperative
Another successful agrotourism in Tien Giang is the garden tour developed by Doan Van Khanh in Song Thuan Commune, Chau Thanh District.
In his 1-hectare garden, Khanh practices beekeeping and grows more than 200 wax coconut trees, pomelos, and medicinal plants.
To make his garden distinct from others, Khanh installed steel bridges to the top of coconut trees, forming an overhead transportation system that allows visitors to touch, pick, and take souvenir photos with the laden coconut bunches and drink coconut water next to the top of the trees.
Entrance to Khanh's garden is free of charge. Visitors only have to pay 100,000 VND for each coconut they pick. At the same time, they can enjoy rustic dishes made from coconut, such as coconut porridge, rice with braised coconut, and coconut salad, along with fresh vegetables that were grown in the garden.
Visitors to the garden may also be impressed by an area of small houses made from recycled materials such as plastic bottles and plastic bags. Khanh shared that the area aims to raise public awareness of protecting the environment and keeping the planet the green, clean and beautiful, thus calling them to recycle non-biodegradable waste and plastic bottles into useful products.
Thanks to his unique ideas, Khanh has received many offers for cooperation from travel agents looking to launch tours to his garden.
Meanwhile, the apple garden of Tran Van Hoi is an outstanding green tourism model in Tan Thanh Commune, Go Cong Dong District. The 1-hectare garden is home to more than 300 apple trees, including 68 trees aged over 30 years. The trees bear fruit all year round, with tonnes of fruits per day.
Visitors spend time on picnic under apple trees in Tran Van Hoi's apple garden in Tan Thanh Commune, Go Cong Dong District.
In addition to joining apple picking activities or taking a boat along the pond in the garden, visitors can also sample signature dishes of Go Cong, including sea food and chicken porridge.
After 3 years of operation, the apple orchard welcomes hundreds of visitors every day, and up to about 1,000 people per day on holidays.
In recent years, Tien Giang Province has developed and fostered many new tourism products while tourism promotion activities have been enhanced.
As a result, the local tourism sector has witnessed positive recovery after the COVID-19 pandemic, with the number of both domestic and international tourists gradually increasing.
In the first 7 months of 2022, Tien Giang welcomed nearly 378,000 holidaymakers, including nearly 13,000 foreigners. The total tourism revenue in the reviewed period was estimated at over 184 billion VND.
Deputy Director of the Tien Giang Provincial Department of Culture, Sports and Tourism Vo Pham Tan reported that the province currently has 46 tourist attractions, many of which are being developed using green and agro-tourism models, such as Thao Nguyen Orchid Garden (My Tho City), Sau Hoi Apple Garden (Go Cong Dong District), and Dong Nghi Cooperative (Chau Thanh).
These models have received high appreciation and interest from tourists. In the coming time, the provincial tourism sector will develop tours to these sites in order to provide more diverse tourism products and services for visitors to the locality.