The event was attended by former Politburo member and former NA Vice Chairwoman Tong Thi Phong along with Members of the Party Central Committee: Hau A Lenh, Minister-Chairman of Committee for Ethnic Minorities Affairs; and Nguyen Huu Dong, Secretary of the Provincial Party Committee and Head of the National Assembly deputies' delegation of Son La Province.
Duringthe festival, delegates and people reviewed the 92-year history of the VFF's traditional day (November 18, 1930-2022);
Reports were given on the situation of the great national unity bloc and the results of the campaigns and patriotic emulation movements of the people of the ethnic groups in Muong Sang Commune in 2022.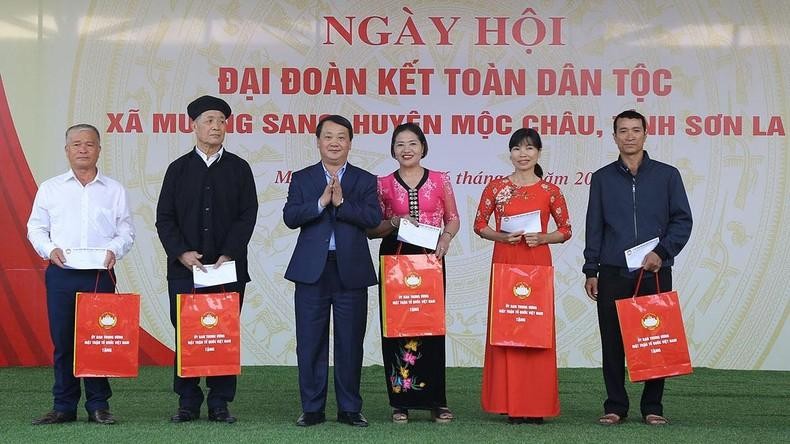 Minister-Chairman of Committee for Ethnic Minorities Affairs presents gifts to five typical families.
VFF President Do Van Chien highly appreciated the Party Committee, government, armed forces and people of Muong Sang Commune,Moc Chau District,Son La Province, for their solidarity in the effective prevention and control of the COVID19 epidemic, quickly implementing synchronous solutions for socio-economic recovery and development, and improving material and spiritual lives ofthe people.
He also highly appreciated the solidarity of the people in the commune inworking together to unanimously build a new rural area, focusing on economic development, reducing the rate of poor households, and developing many cooperatives and cooperative groups.
He suggested that the locality continue to promote the tradition of great national unity; preserve the unique cultural values ​​of each ethnic minorities; and strive to make Moc Chau District into a town of culture and tourism imbued with Northwest identity.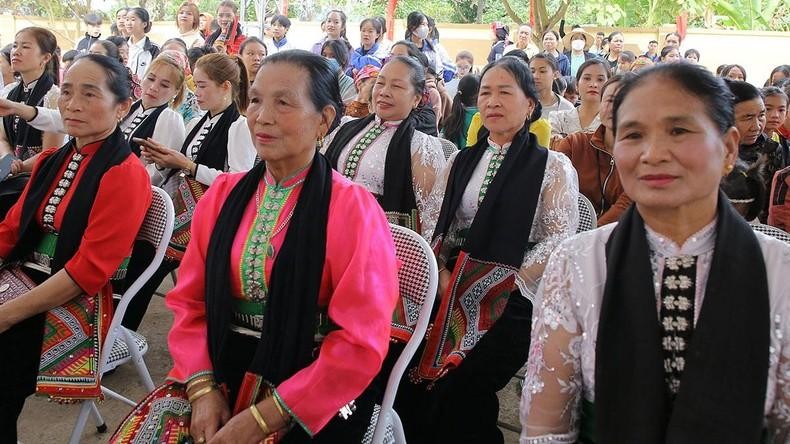 The people of Muong Sang Commune attended the great national unity festival.
On the occasion, the VFF Central Committee presented 2 billion VND from the "Fund for the Poor" to support the construction of 40 Great Solidarity houses in Son La Province and presented 16 gifts to people with meritorious services to the revolution and outstanding individuals.
Minister-Chairman of Committee for Ethnic Minorities Affairsdonated 50 million VND to support the Study Promotion Fund of Muong Sang Commune.
Son La Province also gave gifts to Muong Sang Commune and 13 poor households in the commune. Meanwhile, the Provincial Committee of the Vietnam Fatherland Front awarded aCertificate of Merit to a collective with exemplaryachievements in VFF work in 2022.