The Vietnamese official paid courtesy visits to Secretary-General of the Liberal Democratic Party (LDP) Toshimitsu Motegi, Chairman of Japanese Communist Party Kazuo Shii, Secretary-General of LDP in the House of Councillors Hiroshige Seko, Foreign Minister Yoshimasa Hayashi, and Minister of Economy, Trade and Industry Yasutoshi Nishimura. He also had meetings with representatives of the Japan Bank for International Cooperation (JBIC), and the Japan External Trade Organization (JETRO), as well as officials of Hokkaido prefecture.
At the meetings and working sessions with the leaders of Japanese agencies and political parties, Anh expressed his joy at the strong, comprehensive, and substantive development of the Vietnam-Japan relationship within the framework of the 'Extensive Strategic Partnership for Peace and Prosperity in Asia,' with a high level of political trust that is increasingly enhanced through high-level and regular exchanges.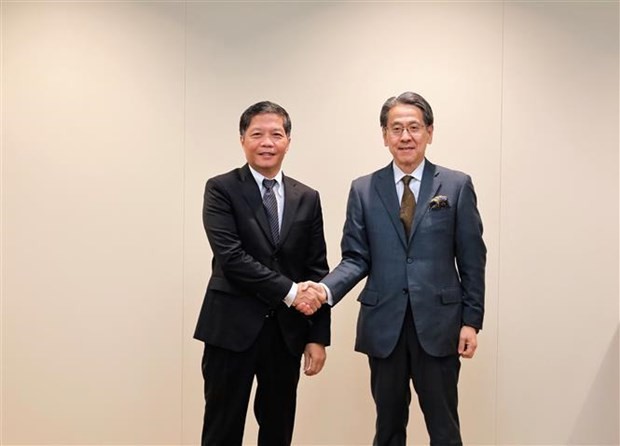 Head of the Party Central Committee's Economic Commission Tran Tuan Anh (L) and a representative of the Japan Bank for International Cooperation (JBIC). (Photo: VNA)
Anh emphasised that Vietnam considers Japan as one of its foremost important economic partners which always supports and accompanies Vietnam in its international integration process and socio-economic development.
Vietnam gives priority to developing relations with Japan, he affirmed, expressing the hope that the two sides will expand cooperation in various areas, including politics, economics, defence and security; and promote exchange and cooperation between the governments and stakeholders of the two countries.
He suggested the government and authoritised agencies of Japan continue to support and create favourable conditions for the nearly 500,000 overseas Vietnamese living, working, and studying in Japan.
The official also proposed orientations for strengthening bilateral relations in the near future, including increasing the exchange of all-level delegations, fostering cooperation between the CPV and Japanese political parties, and introducing Vietnam's foreign policy of independence, self-reliance, multilateralisation and diversification of relations and international integration.
Both sides should deepen cooperation in various fields, especially in the economy, trade, and investment cooperation, he said.
He said he hopes Japan will continue to cooperate and support Vietnam in implementing its three strategic breakthroughs, promoting the implementation of large-scale projects; developing Vietnam's strategic infrastructure, strengthening connection between the two economies; and helping Vietnam join deeply and effectively in new supply chains, speed up digital transformation and development of smart cities, and develop human resources, and respond to non-traditional security challenges.
He took the occasion to thank Japan for inviting Vietnam to attend the 2023 G7 summit in Hiroshima in May this year.
For their part, the Japanese representatives expressed great appreciation and support for the development of friendship and cooperation between the two countries. They highlighted the significance of Vietnamese official's visit in the context that the two countries are celebrating the 50th founding anniversary of diplomatic ties.
They congratulated Vietnam on development achievements, affirming that Japan considers Vietnam an important partner in its policy, and that cooperation with Vietnam holds strategic significance.
Japan is willing to coordinate and exchange measures to strengthen bilateral and multilateral relations in areas that benefit both countries, contributing to elevating the Vietnam – Japan Extensive Strategic Partnership for Peace and Prosperity in Asia to a new height, the hosts said.