At the reception, Le Quoc Minh, also a member of the Party Central Committee (PCC), Deputy Head of the PCC's Commission for Communications and Education and Chairman of the Vietnam Journalists' Association, briefed the guests on Nhan Dan Newspaper - the central organ of the Communist Party of Vietnam and the voice of the Party, State and people of Vietnam.
Nhan Dan Newspaper has established representative offices in six countries, including France, Russia, China, Thailand, Laos and Cambodia. The newspaper has also developed a full range of media, from print and online newspapers to television and radio. In addition to the Vietnamese version, Nhan Dan Online is also available in five foreign languages, namely English, Chinese, French, Russian and Spanish.
Editor-in-Chief Le Quoc Minh added that most young readers today are interested in using technology, reporting that survey results show that up to 70% of Nhan Dan Online readers are aged under 35 years. Given the situation, Nhan Dan's reporters have utilised digital platforms to attract more young viewers.
Nhan Dan Newspaper has developed a digital transformation strategy to develop into one of the six key multimedia press agencies of Vietnam.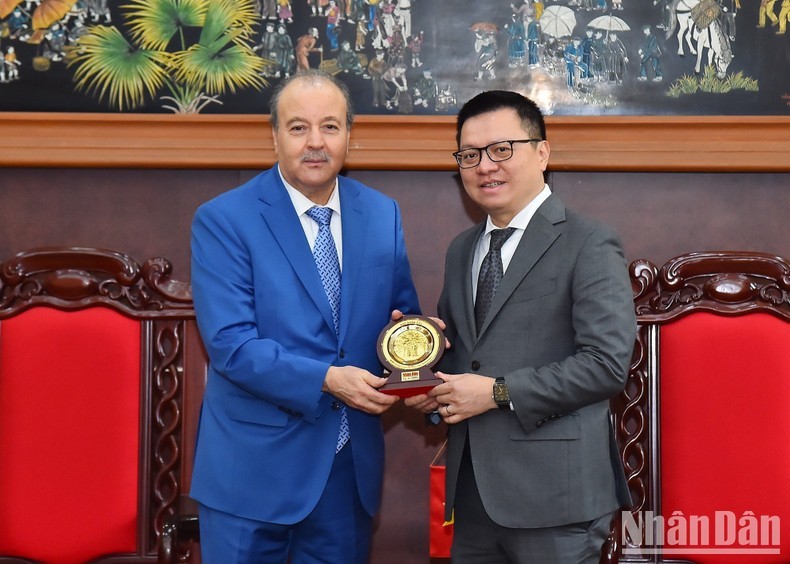 Editor-in-Chief Le Quoc Minh (R) presents Ambassador Abdelhamid Boubazine with the logo of Nhan Dan Newspaper. (Photo: NDO/Thuy Nguyen)
On this occasion, Editor-in-Chief Le Quoc Minh and Ambassador Abdelhamid Boubazine reviewed the long history and good traditional friendship between the two countries.
Ambassador Abdelhamid Boubazine said that the Governments and peoples of the two countries always gave each other active support in their struggles for national liberation and national independence, as well as in the current construction and development of the country.
During his term in Vietnam, Ambassador Abdelhamid Boubazine hopes to receive the help and coordination of Nhan Dan Newspaper in communicating all friendship activities, enhancing understanding between Algeria and Vietnam.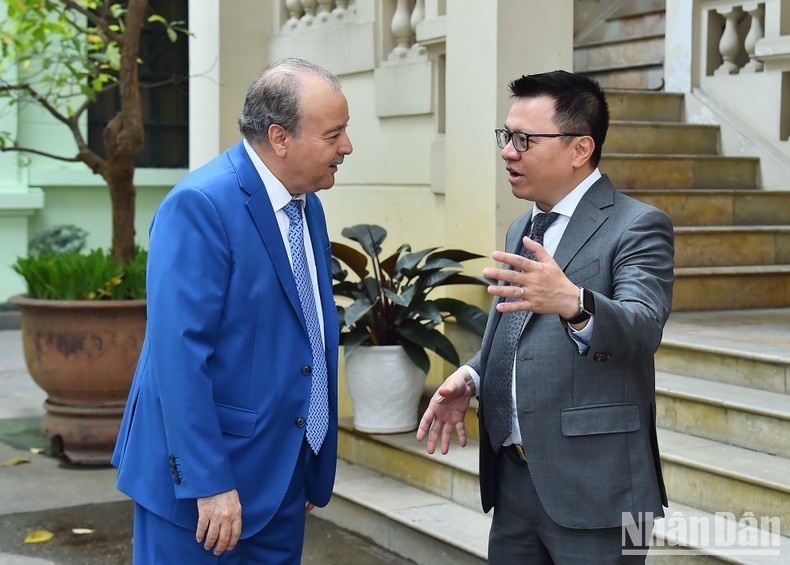 Editor-in-Chief Le Quoc Minh (R) and Ambassador Abdelhamid Boubazine. (Photo: NDO/Thuy Nguyen)
Editor-in-Chief Le Quoc Minh wishes Ambassador Abdelhamid Boubazine a successful term in Vietnam and continues to promote the positibe development of Vietnam-Algeria cooperation. The Editor-in-Chief affirmed that Nhan Dan Newspaper is ready to help and coordinate with the Algerian Embassy in Vietnam to contribute to bringing relations between the two countries to a new height.