The event was attended by former President Truong Tan Sang, and former Chairman of the National Assembly Nguyen Sinh Hung, among others.
Speaking at the event, member of the Party Central Committee (PCC) and Editor-in-chief of Nhan Dan Newspaper Le Quoc Minh, who is also Deputy Head of the PCC's Commission for Communications and Education and Chairman of the Vietnam Journalists' Association, said the event was a chance to honour fallen heroes and soldiers at Truong Bon pass, for the independence and freedom of the nation.
He stressed that the patriotic tradition, heroic spirit and studiousness of Nghe An's people have been always outstanding in all periods. This is the birthplace of eminent culturalists and heroes, especially President Ho Chi Minh. Nghe An was always a firm fulcrum in all resistance wars against foreign invaders.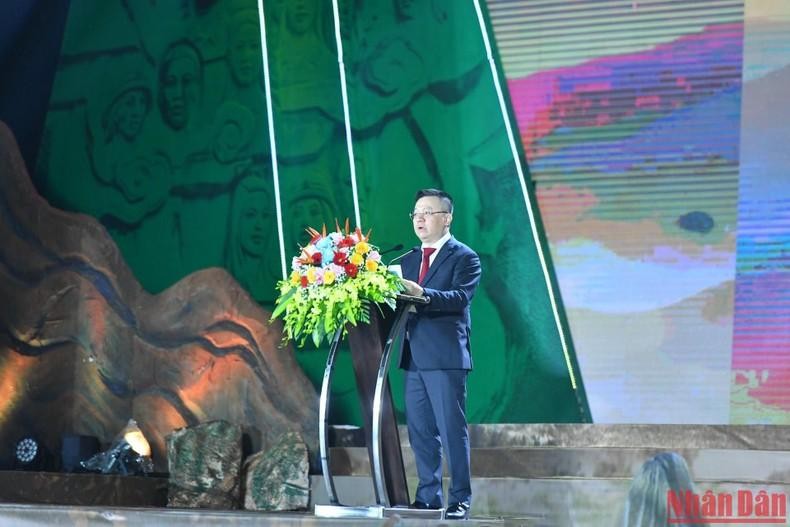 Editor-in-chief of Nhan Dan Newspaper Le Quoc Minh speaks at the event. (Photo: NDO)
Nhan Dan Newspaper's staff will always accompany the Nghe An provincial Party committee and people, as well as the whole country, to successfully implement the Resolution of the 13th National Party Congress and the Platform for National Construction in the transitional period towards socialism, which was developed and supplemented in 2011, added Editor-in-chief Le Quoc Minh.
He also said on the occasion, Vietnamese people remember President Ho Chi Minh's words during his second visit to his hometown in 1961 and in his last letter to the Nghe An Party Committee dated July 21, 1969, that compatriots and cadres need to have the determination to strive to build the province into one of the best provinces in the North.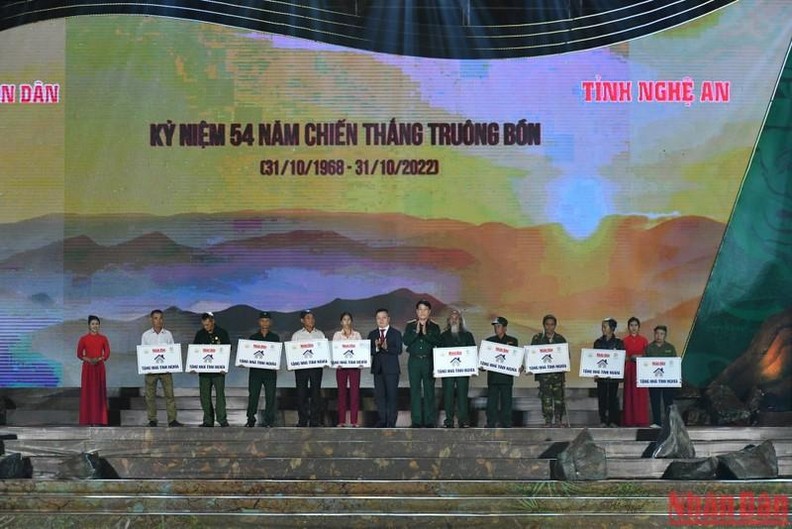 Ten houses of gratitude were handed over to ten policy beneficiary families. (Photo: NDO)
At the ceremony, ten houses of gratitude were handed over to ten policy beneficiary families. In addition, 33 saving books and gifts were presented to relatives of 13 young female volunteers, who sacrificed their lives at the Truong Bon Mountain pass and revolutionary contributors who are living in difficult circumstances.
Following the ceremony, a special art programme entitled "Truong Bon - Legendary Epic" was held, bringing audiences back to the fierce years through vivid stories.
The performances highlighted the innocence but resilience and heroism of small people during the fight against the destruction of enemy bombs.
Earlier on the same day, leaders and former leaders of the Party and State, Nhan Dan Newspaper and Nghe An province, all paid tribute to heroic martyrs at the Truong Bon historical relic site and the grave site of 13 young female volunteers.