Many localities record impressive revenues
According to the General Statistics Office, the total number of domestic tourists reached 71.8 million in the first seven months of 2022, 10 times higher than the same period in 2021.
Vietnam's domestic aviation market also had an impressive growth of 123% over the same period in 2019. The experts also said Vietnam is one of the countries with the fastest recovery of domestic aviation in the world.
The localities with impressive revenues from tourism in recent years are Khanh Hoa (up 858.4%), Can Tho (328.3%), Da Nang (284.8%), Hanoi (216.8%) and Ho Chi Minh City (111.4%).
The above positive signals are thanks to policies supporting and promoting the development and recovery of the tourism industry. Following the outbreaks of COVID-19, the provinces and cities around the country have gradually eased the social distance measures and epidemic prevention and control procedures, creating favourable conditions for domestic tourism promotion activities.
In addition, the dynamism and creativity of tourism businesses in improving the quality of their products, as well as developing new products, is also a lever to Vietnamese domestic tourism's growth.
Following the pandemic, many destinations' managers have been also more serious in raising awareness of sustainable tourism development and the protection of local culture. More than two years of operation stagnation were also the time for investors and tourism businesses to restore and renovate accommodation facilities, as well as change their operation methods to suit long-term development.
Many emerging travel trends
In 2022, Vietnam's tourism industry recorded a high demand forresorts, eco-tourism, and medical and healthcare tourism.Especially, the tourism facilities have great much attention to the development of the mud bath, spa and sauna services and hot mineral spring tourism models to meet the increasing demand for post-COVID-19 recovery and health care.
The tours have been selected by many families and groups with large members. When travelling in this form, visitors won't have to worry about the schedule, destinations, dining areas and resting places, because the travel companies have prepared.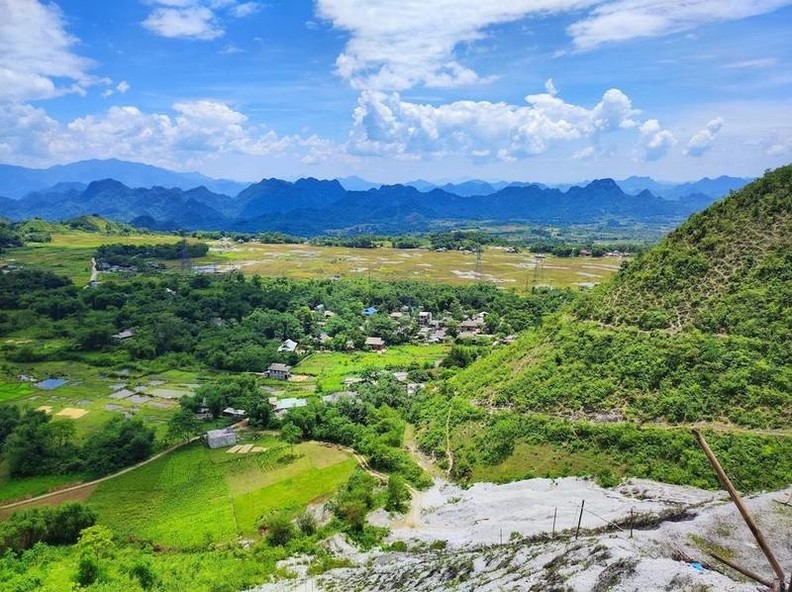 Mai Chau is a favourite destination for young people.
Meanwhile, many young travellers want to be proactive in arranging travel schedules. Phung Thuc Anh, a young person who is passionate about travelling by motorbike, said: "I often have a habit of travelling alone or only with a small group of no more than six members. When I travel alone, I often choose destinations less than 200km from Hanoi's centre such as Mai Chau, Thung Nham, Tam Dao and Ba Vi."
In contrast to tourism, which is thrifty in spending, many newforms of luxury travel have attracted domestic travellers. Recently, glamping tourism has emerged as a new and interesting tourism trend. Glamping is a short term for 'glamorous' and 'camping', which can be understood as luxury and high-class camping tourism. In particular, service providers will prepare all camping equipment, food and drink and ensure the safety of the camping area for visitors. Although this tourism form appeared in early 2021, glamping service providers had the opportunity to promote and develop this new and uniquetravelling form since the beginning of this year.
Shortly, glamping will be a particularly attractive tourism product, not only for domestic tourists but also for foreign visitors. Glamping does not require a large initial investment, but if the stages of design, building and operation for products are conducted carefully under international standards, this product will become a potential form of the tourism industry.

Vu Giang Bien, Director of Asia Paradise Travel Company (PATTOURS).
The tourism industry is forecast to reach full capacity during the national holiday
The upcoming National Day holiday will last for four days (from September 1-4). The long vacation is favourable for families and groups of friends to enjoy domestic trips. This is also the time for students to relax before entering the new academic year. Therefore, the tourism sector expects to welcome a record number of tourists during this holiday.
The major travel companies have been providing very attractive promotional programmes for visitors during the upcoming holiday. For example, Saigontourist offers a discount of 500,000 VND per pax for tours connecting Ho Chi Minh City with Con Dao and Phu Quoc. The price for a tour ranges from about 3,439,000 VND per pax to 7,439,000 VND per pax, depending on whether the tour price includes airfare or not. In the northern region, Vietravel also provides a tour around the northeast which passes through places such as Lung Cu, Dong Van, Ma Pi Leng, Meo Vac, Ban Gioc Waterfall, and Ba Be Lake. The price for a 7-day-6 night tour is 7.1 million VND per pax in the form of a land tour.
In addition, 5-star hotels in famous destinations such as Ha Long, Phu Quoc, and Da Nang offer promotions up to nearly 30% for early booking travellers.
In recent years, international tourists have been the main source of income for the domestic tourism industry. However, in the first seven months of 2022, the country only welcomed about 733,400 foreign tourists, accounting for nearly 15% of the plan to welcome five million international visitors this year. Recently, thanks to the policy of "vaccine passports", many international routes have been resumed.
In the rest of 2022, Vietnam's tourism industry should have more practical policies to further promote the international tourism market in the context of the current fluctuations in the world.